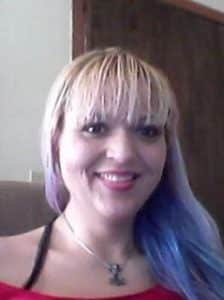 Yozina L. Jarvis, 40, Oneida, passed away peacefully on Sunday October 8, 2017 at St. Vincent Hospital surrounded by her loved ones. She was born October 20, 1976. Yozina had a creativity that was within her and it was magical. May she now experience the joy she showed to family and friends.
She is survived by her father Tom M. Thorstenson, her mother Diane C. Jourdan, her elder brother Skye Thorstenson, younger brother Wolf Thorstenson, younger sisters; Theresa Thorstenson, and Tiana Silva. Brothers-in-law; Fernando Silva Jr., and Adrian Cornelius Sr. Parental grandmother; Doris Thorstenson, Yozina is further survived by nieces and nephews; Aaliyah (Jimmy) N. Silva, Lisette A. Cornelius, Jackson F. Newton and Daniel L. Silva.
She was preceded in death by her maternal grandparents; Henry E. (Mary) Jourdan, and parental grandfather Ervin Thorstenson.
Special mention to her eldest niece and nephew Aanlea Thorstenson and Gavin B. Greendeer.
Friends may call at RYAN FUNERAL HOME 305 N. Tenth Street De Pere after 4:00PM Wednesday October 11, 2017, until time of service at 7:00PM. Please go to www.ryanfh.com to send online condolences to the family.
The family would like to extend a thank you to the staff at Manor Care, St. Vincent I.C.U. and the staff at Ryan Funeral Home.