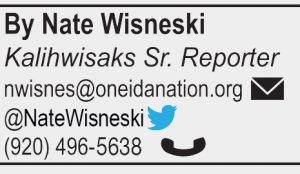 Many have seen the viral music video – Uncle Elroy and his friends driving around the reservation in their less than ideal car. "Rez Beater" is fast approaching 300,000 video views and is a tongue in cheek song poking fun at the Native American lifestyle but Uncle Elroy doesn't want to be pigeon holed as just an Indian rapper or a novelty song maker.
"A lot of Native rap I hear has stuff people can't associate with. For me, I don't want to not include anyone. I try to make my music for a broader audience. I rather not have a single lane, I would rather have like five lanes," said Elroy.
Elroy started writing as a kid but began recording music three years ago.
"It was more or less poetry. I wasn't a good student, I didn't really care to do the work. Teachers told me I was good at poetry and they pushed me telling me I didn't have to be an accountant," he said.
Uncle Elroy is taking advice he received from his father to heart.
"He always told me to not go out there and say nothing. If you have something to say, say it, people are listening," said Elroy. "I really care a lot about my lyrics. If you're saying nothing people are perceive your music as nothing. It's in one ear and out the other. I want to give people something they can hold on to," said Elroy. "When I write my lyrics I want to make sure everything is thought out. I might revise the same line three times to make sure all the words rhythm and the same and have meaning while the syllables aren't off-beat."
The Oneida-based rapper's debut album is expected in early January is titled "Energy".
"I want it to be something that can be on the radio and feel good to. In our area and community the youth don't have a lot to hold on to. I want to give them something to look up to," said Elroy.
"Rez Beater" has given Uncle Elroy some recognition while he was able to put his fun personality on display.
"I just wanted to do something goofy, most know me as a goofy guy who likes to have fun. I just wanted to do something fun," said Elroy.
The video features a rusty green Chevy Cavalier but Elroy said it wasn't easy to find a car to fit the song's title.
"It was my friend's Franke's car. We were trying to find a car but a lot of people didn't want their car in the video," explained Elroy.
Feedback for the video has surprised Elroy.
"It's mainly been good. Different people from different reservations message my Facebook page all the time," he said.
Follow Uncle Elroy on Facebook at Facebook.com/UncleElroy920 or Twitter at @MRFr33MiNDS for show information along with album purchase options.