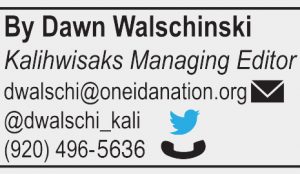 Gail Roznoski has had a couple of businesses in the past, but her new venture Roxy's Rock Shop is part of her life-long passion.
"When I was five years old, I went to the museum here in Green Bay, and they had all these rocks, and I'm looking at the rocks, and I instantly fell in love with the rocks. I bought my first piece for five cents. And ever since then, I've been ah, ooh, oh, rocks are fun stuff, beautiful," said Roznoski.
Open since May 1 of this year, Roxy's Rock Shop features gem stones, crystals, jewelry and more.
"We've got a rock shop that's unique and different, because we actually go out and get our own rocks mostly," said Roznoski. "We go out west and we mine. We get the turquoise and the chyrsocolla, amethyst, malachite, mostly in Arizona. We bring it back here, cut it, polish it, make it into pendants or cabochons, or slabs – we slab it out for people who want to make their own. We've been doing that for 20 years."
Roznoski runs the business with her sons Keith and Jeff, and her grandson Gavin Cairns.
"I love to make jewelry. Most of the jewelry is cut by my son, and I do the wire wrapping," she said.
The shop also features in-house psychic Veronica Young.
"I offer natural remedy classes as well as metaphysical classes," said Young. "We also do chakra balancing, and other forms of energy work."
"Business is good. We have people in here every day. They want to know the metaphysical qualities of the rocks. Most people that come in here are interested in that energy that comes from the rocks," said Roznoski.
Roznoski has also offered jewelry making classes for a $20 fee.
"By the time the class is done, they have a pendant that they can take home," said Roznoski.
Roxy's Rock Shop is located at 2218 S. Ridge Road, Green Bay. Hours: Monday – Friday 11:00am to 6:00pm, Saturday 11:00am – 3:00pm. Call 920-492-9800 for more information.
"Come and check us out. We're the best crystal shop in the area," said Young.
"At least we think so," said Roznoski.