Moreno, Marie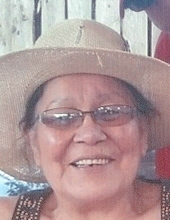 Marie "Lil Gal" E. Moreno, 66, Green Bay, passed away on Friday, September 1, 2017. She was born August 19, 1951 in Green Bay, WI a daughter of the late Louis and Mary (Stevens) Webster.
Marie lived in Chicago for 42 years working as the cook in a convent. She moved back to the Green Bay area to be closer to her family. Marie enjoyed playing dice games, especially 10,000 and Yahtzee, cheering on the Packers, sewing, and going to thrift stores. Her best joy though was being around her… family and the time spent with them.
Marie is survived by her children: Shawn Moreno, Jonathan Miller (Sandy), Marlo Webster (Willy), and grandson Luis Webster; numerous grandchildren and great grandchildren. She is further survived by her siblings: Darrold "Bossy" (Veronica), Ronald "Slab" Webster, Daniel "Diggy" Webster, Judy (Arlon) Bozeman, Thomas (Gail) Webster, Doreen "Dora" Reed, and Luke "Spooky Luke" Webster; sister-in-law Betty "Ada" Webster; numerous nieces, nephews; her goddaughter Rachael Gurneau; and her closest friends: Twila Thunder, Valerie White, and Sharon Taylor.
She was preceded in death by her parents; her siblings: Betty, Verna, Joyce "Pies", Lois, Robert "Littleman", Donald "Lil Jel"; significant other George St. Germain; nephew Little Bear King, nephew Paul Tonnen; niece Roberta Tonnen; and aunts and uncles.
Family and friends may visit on Tuesday, September 5, 2017 from 9:00 am to 12:00 pm at RYAN FUNERAL HOME & CREMATORY, 305 N. Tenth St. De Pere, WI. Short service will follow at 12:00 pm. Inurnment will be in Zion Lutheran Cemetery at a later date. Please visit www.ryanfh.com to send condolences to Marie's family.