Metoxen, Mary Magdalene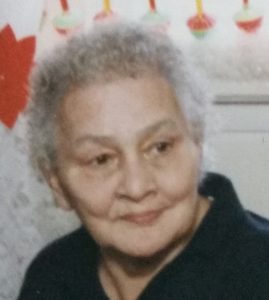 Mary Magdalene Metoxen, 87, Seymour, passed away on August 19, 2017. She was born on January 7, 1930 to Hattie (Moore) and James Schuyler in Oneida.   On April 23, 1955 she married Nick Metoxen in Oneida.  Mary was a professional cook for Elder Services of the Oneida Nation and Head Start.
Mary enjoyed cooking, music, gardening, puzzles, and board games. She especially loved family and the Green Bay Packers.
Mary is survived by her husband, Nick Metoxen as well as her children Audrey (Wayne) Wishart, Gerald (Sharon) Schuyler, Larae Gower, Diana (Edwin) King, Barbara Metoxen, Brenda Metoxen, Vicki Metoxen, Linda (Vincent) Powless, Lesley (Gus) Ness, Sue Ann (Antonio) Martinez, Michelle (Blair) Braaten, and Carol Manning.  She is further survived by 42 grandchildren, 98 great-grandchild and 2 great-great-grandchildren.
She is also survived by her siblings Pearl Mclester, Eva Danforth, Evelyn Elm, Harriet Reiter, and Cleo (Wayne) Cornelius; as well as in-laws Donald Denny, Ron Doxtater, Carl (Doris) Metoxen, Carol Lopez, Janet (Henry) Huff and special God-Child Terry Thomas.
Mary is preceded in death by her parents Hattie and James Schuyler; a daughter, Kim Marie; brothers Lester, James and Joe Schuyler; sisters Shirley Schuyler, Barbara Denny, and Rita Doxtater; Sister-In-Law Althea Schuyler and numerous other in-laws as well as 3 grandchildren.
Friends may call at RYAN FUNERAL HOME 305 N. Tenth Street, De Pere after 10:30AM Wednesday August 23, 2017. The Oneida Hymn Singers will sing at 11:30AM followed by her service at 12:00PM. Please go to www.ryanfh.com to send online condolences to the family.
Mary's family would like to thank the staff at St. Vincent Hospital, Anna John Residential Community Care Center, Oneida Elderly Services and the Oneida Health Center.