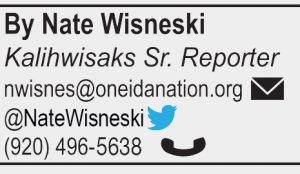 The new school year is quickly approaching which means the Oneida Nation Thunderhawks football team is already prepping for their upcoming 2017 season.
The Thunderhawks open the season at home against Gibraltar on Friday, August 18. Game time is 7 p.m.
The Thunderhawks look to keep up the offensive pace from last season after losing only three impactful players from last year's roster. The team led the state in all offensive categories before injuries to their starting quarterback and backup.
"We return starting quarterback Seth Charles. He was Honorable-Mention All Conference last season, if he didn't get hurt it would be safe to say he would have been All-State last year," said Thunderhawks head coach Bryan Peterson.
To fuel their offense the Thunderhawks will lean on returning running back Ryan King. King led the conference in rushing yards and on tackles.
Newcomer Nathan Ninham, Defensive End, will be looked at to help King anchor the defense.
"He had a huge day in our scrimmage. He's been really impressive in camp and a really big, physical kid that likes to play defense," said Peterson.
A new defense has Peterson excited for its potential.
"We looked really good in the scrimmage. We have a new defensive coordinator and he seems to have brought a new energy and passion to the defense that the guys are buying into," said Peterson. "It's more aggressive, adopts a lot more and really seems to play a lot faster."
With an already explosive offense and upgraded defense expectations are positive for the season.
"We have a chance to be really good. We don't know a lot about the new teams in our conference. I think if we can start off well the first three weeks we can really build from there," said Peterson.
After a season bit by the injury bug, Peterson is taking a different approach to training camp.
"We had Prevea come and do an injury prevention assessment this year. We want to keep the guys healthy. When you only have 19 and you lose three it puts you behind the ball. We are really trying to prevent injuries this season," said Peterson.