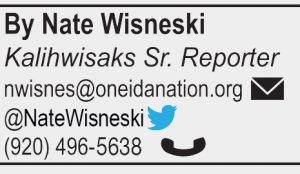 The Thornberry Creek LPGA Classic crowned Katherine Kirk champion a little less than a month ago and planning for next year's tournament is well underway.
"Planning started the Tuesday following the event finish!  Our tournament team has been going through multiple debriefing meetings and working towards finalizing reports to assist in complete planning for year two.  We have already started reaching out to current partners and new supporters for the next event. We expect to see the sponsor list grow as will the attendance, concessions and merchandise," said Thornberry Creek at Oneida's Chief Operating Officer Josh Doxtator.
Estimated attendance for the event was 62,000 with about 2,800 of those being Oneida citizens. Doxtator says a full report will be made the General Tribal Council (GTC) after the full financial details arrive in late September or early October.
"We did see well above average merchandise sales and concessions in the midst of evacuating the course twice for inclement weather.  Starting Saturday of tournament week we began getting bombarded with requests for stay and play packages; needless to say, people were watching," said Doxtator.
The GTC can expect a comprehensive report going into great detail.
"We want to make sure we come with all the facts and an understanding of how each business unit was impacted.  We will also provide a media equivalency value for the brands that were showcased on global television, including the Oneida Nation brand," Doxtator said. "It's important that the GTC know as much as possible about their investment and its value to the region, both financially and through brand awareness."
According to Doxtator, feedback from LPGA officials and players should make Oneida Nation citizens proud.
"The LPGA team and Executives couldn't say enough good things about the event.  One of the best compliments we could have received was one voiced over and over, this doesn't feel like a first year event. The build out, logistics and total execution was better than most events and it looked like we had been doing this for years.  The (LPGA) Commissioner, Mike Whan, voiced his intent to partner for many years beyond the first three and he could see our venue being one that attracts the best players and biggest crowds in future years," said Doxtator.
Players were not only impressed with the event but showed appreciation for the Oneida culture.
"The player's couldn't get enough of Thornberry and the Oneida Nation.  A handful went on a tour of the Reservation and can't wait to tell the players who didn't attend all about it.  They all agreed we had the absolute best facility, both clubhouse and practice facilities, than others on Tour and their caddies also expressed their love for the property and how everyone was treated.  We were flooded with thank you cards from the players and all of them exclaimed that they couldn't wait to come back next year," Doxtator added.
Ways to improve are already being discussed but don't expect significant changes.
"We've had some conversations about parking for tribal members and finding a better way to communicate directly to the ownership throughout. As the event grows, so will the build. We may see some new structures or an expansion on 18 next year, but it's too early to tell.  One thing is for sure, as far as first year events go, this went as well as it could and the nation should be extremely proud of what they've built," said Doxtator.