Villegas, Trina L.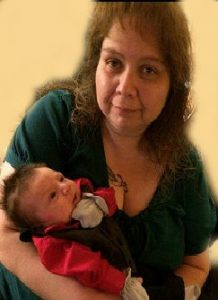 Trina L. Villegas, age 43, of De Pere, passed away peacefully, Sunday, July 30, 2017, surrounded by her loving family, after a brief and courageous battle with cancer. She was born July 31, 1973 in Green Bay, daughter of Eugene Metoxen and Florence (Hill) Petri and was a graduate of West De Pere High School.
Trina continued her education at Lakeland College where she earned her Bachelor's Degree in Accounting and went on to earn her Master's Degree in Accounting from University of Phoenix. She worked for the Oneida Casino, was a claim processor for Humana for many years and then was currently employed as a Payment Administrator for Oneida Enrollment. She was a faithful member of the Oneida United Methodist Church.
Trina's family was her pride and joy. She was first and foremost a loving wife, mother, grandmother, daughter, sister and auntie. She was fortunate to see her daughter married before she passed, which brought her such great joy. She is remembered for her wisdom, sense of humor and her positive attitude, which she held on to until the very end.
Trina is survived by her husband, José; daughter, Maria (Gabriel) Gonzales; parents, Eugene Metoxen and Florence Petri; and brothers: Wayne (Elaine) Metoxen, Lonnie Metoxen and Steven (Jen) Petri. She is further survived by numerous nieces, nephews, cousins, other relatives and friends.
She was preceded in death and now reunited with her grandbaby, Elias Ubaldo Gonzales; her brother, Tim; sister, Tammy and nephew, Kordel Metoxen.
Visitation will be held at NEWCOMER FUNERAL HOME (340 S. Monroe Ave., Green Bay), Wednesday, August 2, 2017 from 4 to 7 PM. Visitation will continue at ONEIDA UNITED METHODIST CHURCH (N6048 Cty Rd. E, De Pere), Thursday, August 3, 2017 from 9 to 11 AM. A funeral service will follow at 11 AM. To leave an online condolence for the family, please visit www.NewcomerGreenBay.com.
Trina's family would like to extend a special thank you to the staff at St. Vincent Hospital for their care of Trina and their support to her family.