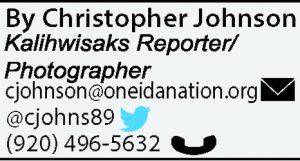 ***UPDATE***
On July 19-21 the Oneida Election Board conducted recounts for the disputed Gaming Commission seat as well as for two Business Committee positions. The outcome of the Gaming Commission recount has resulted in a 537-537 tie between Cristina Danforth and Melinda Danforth.  The results of the Oneida Nation Secretary recount has Lisa Summers narrowly defeating Debra Powless 768-766 while Ernest Stevens III has hung on to make his Council Member debut by a slim 596-593 victory over Linda "Buffy" Dallas.
Per the Oneida Election Laws the Gaming Commission tie will result in a lot drawing to determine which candidate will take the seat. The drawing will be held Wednesday, July 26 at noon in the Oneida Business Committee Conference Room in the Norbert Hill Center. All election results will not be ratified until August 9.
Check back with the Kalihwisaks for the latest information as it becomes available.
---
On Saturday, July 8, Oneida Nation members took time out of their weekend and performed their civic duty by voting in the 2017 General Election. Although the official results will not be accepted until August 9, a recount of votes on July 12 yielded a surprising reversal in the running for Oneida Nation Secretary.
Following the initial vote count it appeared Debra Powless had unseated incumbent Secretary Lisa Summers by one vote, 767-766. However, the Election Board conducted a recount of the votes cast for the Secretary position as well as the Appellate Court Judge position. While there was no change in who won the Appellate Court Judge seat, the July 12 recount revealed a 2 vote increase for Summers and a 3 vote decrease for Powless thereby giving the run for the Secretary position back to Summers by a slim 768-764 margin.
Further recounts were expected to take place for the Gaming Commission on Wednesday, July 19, for voting results that show Cristina Danforth beating Melinda Danforth by a narrow 540-537 margin. Another recount for the Secretary position will also take place on Thursday, July 20, as well as for a disputed Business Committee Councilmember slot which tentatively showed Linda Dallas losing to Ernest Stevens III by a mere two votes, 596-594.
07-21-17 Updated Tentative Results