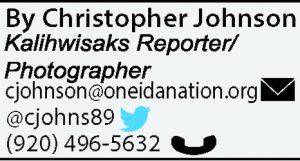 What began as an idea nearly eight years ago is reaching the final stages of becoming reality on the Oneida Cultural Heritage grounds. During a 2009 visit to Ontario, Canada, Oneida Nation's Marketing and Tourism Director Michelle Danforth was with a relative whose husband helped build the first longhouse in the Ska-Nah-Doht Village and Museum complex during the late 1960s.
"When I saw (the longhouse) I just thought it was so amazing to see an actual structure of the way that we used to live, and I thought that this was something we needed to do in Oneida," Danforth said. "In 2012 Oneida Total Integrated Enterprises (OTIE) conducted an engineering structural plan but with that came stringent rules about how structures could be built. And because of the budgeting policies and procedures there were a lot of hoops that had to be jumped through to make this happen."
This will not be the first time a longhouse has stood on the Cultural Heritage grounds. "We used to have one here but unfortunately the bark on a longhouse only lasts for about three years," Danforth said. "In about year four it started to crumble and we had a really bad snow storm and the roof collapsed so we had to have that one torn down."
Not only does natural bark deteriorate quickly, the process for gathering it is also a painstaking and timely process. "Bark has to be hand stripped," Danforth said. "And you can't just hand strip it in the month of May. Temperatures have to reach about 80 degrees where the bark will fall off nicely. So it's not just an issue of manpower but it's also dependent on the weather."
Danforth also cited information from the Ontario Provincial Park, where Ska-Nah-Doht Village stands, which shows the park typically pays approximately $13,000 to replace a longhouse every three or four years. Knowing this was not feasible for Oneida, Danforth continued her research on the project.
Work progressed slowly on the endeavor, but in 2013 the Stockbridge-Munsee Tribe graciously donated wood that the Oneida Conservation Department later cut and removed from their land. That wood eventually became the poles used for the structure. However, the problem with the exterior of the longhouse remained.
With natural bark not being a viable long term option for this particular project, OTIE's Matt Kunstman and Stockbridge-Munsee Councilmember Joe Miller suggested researching realistic looking alternative facades for the structure.
Michael Metoxen, from the Oneida Tourism Department, researched different companies and found a roofing material that was similar in appearance to real bark. Durable and water tight, the material is similar to that used by the Stockbridge-Munsee on two of their historic structures with successful long-lasting results.
With the use of the artificial bark, maintenance costs for the 65 foot long, 25 foot wide and 20 foot high structure are expected to be minimal. "The only real maintenance we anticipate is every few years we'll have a local artist come in and touch up the hand painted bark," Danforth said. "It's the same thing we do with the buffalo overlook in Oneida."
The Oneida longhouse project is now in the final stages of construction. "Provided the final sets of tresses go up in the beginning of August then the plywood shell can go up with the roofing paper," Danforth said. "When we get to that point we may ask for some community help and I think this will be a wonderful opportunity for volunteers to assist with this project."
Durable, water tight, and designed to last many years the new Oneida longhouse will be an historic structure with some modern twists. "We're planning on putting a small solar panel on one end of the structure," Danforth said. "That way we can have some lights as well as install a security system. Weather permitting we anticipate the project will be completed by the end of August and by the time Big Apple Fest rolls around in September we should have a very nice display."