Metoxen, Rolland M.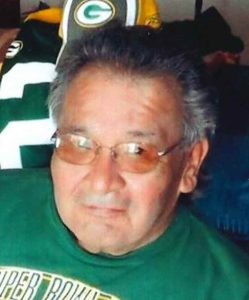 Roland M. "Rollie" Metoxen, 65, passed away peacefully in his sleep Sunday, July 16, 2017. He was born March 31, 1952 to the late Irvin and Sadie (Cornelius) Metoxen Sr. He was an avid Packer and Elvis fan, enjoyed playing drums with Honest Abe, The Injuns, Medicine Men, Cherry Bounce Band, telling a good joke, and a nice cold beer.
He is survived by his 3 sons, Brad Metoxen, Green Bay, Adam (Tiffany) Metoxen, Green Bay, their mother Jeanne Metoxen, and Preston Ninham, Green Bay; 3 granddaughters Ayana, Aaliyah, and Ariyah; 1 brother, Irvin (Sandy) Metoxen Jr., 3 sisters, Beverly King, Patricia (Geno) Danforth, and Sandra Danforth; 3 godchildren, Kristina Danforth, Marques Danforth, and Tyson McNaughtan; and by nieces, nephews, other relatives, and many friends. He was preceded in death by his parents Irvin and Sadie (Cornelius) Metoxen; sister his sister Freida.
Friends may call at Church of the Holy Apostles, 2037 Freedom Road, Oneida after 9:00AM Wednesday July 19, 2017. The Mass of Christian Burial will be celebrated at 11:00AM with The Rev. John Cell and Deacon Deborah Heckel officiating. Please go to www.ryanfh.com to send online condolences to the family. RYAN FUNERAL HOME, De Pere is assisting the family.
Special thanks to Dr. Flood and Anna John Nursing Home for their care and assistance.