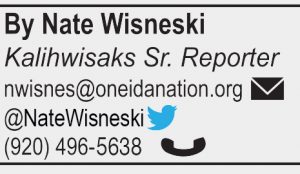 As the warm weather season quickly approaches improvements are being made at Oneida Lake for the community to enjoy.
Playground equipment and an expanded beach were added after community input was gathered. A volleyball net will soon be following.
"We are continuing to listen to the community and we have installed playground equipment. We just have to get the sand in place and our goal is to have that done before Memorial Day," said Steve Linskens, Environmental Project Manager. "The beach really looks small now but about a third of the beach is under water. That will change of course but we did expand it 20 plus feet to the east."
Along with visual changes at the lake, work is still being done to complete phase II of the project, which would add about 10 acres of water to the lake.
"That's all tied to funding, we are working on getting funding for that," said Linskens.
Funding for the playground equipment came from the Diabetes Prevention Program through Oneida Health Promotion of the Comprehensive Health Division.
Linskens is also hoping some larger trees will be planted to give immediate shade to lake goers on hot days.
"We understand shade is an issue at the lake," he said.
The updates to the property were a multi-department task with help from the Conservation Department, Environmental Health Safety Division, Department of Public Works – Grounds keeping, Plumbing/Community Wells and Septic and the Diabetes Prevention Program.
"Everyone is doing a lot of work out there," said Linskens.
Last year litter was a problem at the lake but Linskens saw an improvement as the summer progressed.
It seems to have been getting a little better. It's your lake, the community's lake. Please take care of it and please pick up after yourselves," he said. "This will be the third season for the lake and it really is a nice resource for the community."
Oneida Lake is located on Crook Road in Oneida and is open from sun up to sun down.
One Response to Improvements at Oneida Lake