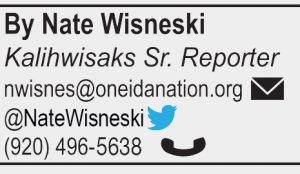 With Vice-chairwoman Melinda Danforth chairing the Special General Tribal Council (GTC) Meeting on April 23, the GTC made a large dent in the agenda. The meeting was a continuation of the February 13 meeting.
The GTC worked quickly to approve Election Law amendments that will update the current law to reflect changes approved by Oneida citizens during the Secretarial Election of 2015.
The approved changes will allow 18 year-olds vote in the upcoming general election, change Oneida Tribe of Indians to Oneida Nation, and clear the process to make future changes to the Oneida Nation constitution.
The change required a two-thirds majority vote and passed easily by a hand vote.
The GTC then turned their attention to the annual Treasurer's Report. After a few clarifying questions along with failed motions the report was accepted as information only.
A confidential report on the distribution of tickets and merchandise related to the sponsorship contract with the Green Bay Packers was next. The report focused on the 2016-2017 season. ­­­To ensure checks and balances the GTC moved to have names of individuals receiving merchandise or tickets be sent to Internal Audit for annual audits.
During the Annual Report agenda item the Nation's land purchase history took center stage. GTC members voiced concerns over the quality and value of some recent land purchases. As a result, the OBC and Land Commission will be providing a report twice a year about property purchases.
After no issues were found with an internal audit of the Green Bay Packer ticket and merchandise contract it was quickly approved. The report was given last July, but then tabled before being approved during the April 23 meeting.
The GTC then moved to remove a request to transfer funds from the Elders Trust to the Minors Trust from the table. The motions origins, which asked for $5 million to be transferred, dates back to February of 2016. It was tabled then, and again tabled in September of last year. The transferred funds would be managed by Bay Bank. The motion failed to pass.
The Reorganization and Employment Law updates were then deleted. The two items are set to appear on future agendas.
Shortly before the meeting recessed the GTC tabled the 2016 Directives Report. It is unclear when they will return for future action.
The next GTC meeting is Tuesday, May 16 at 6:00 p.m.  at the Radisson Hotel and Conference Center.
One Response to GTC holds special meeting