Metoxen, Sean Joseph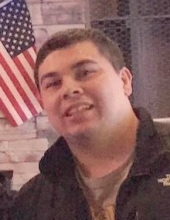 Sean Joseph Metoxen, 27, Green Bay passed away on Thursday May 4, 2017. He was born December 17, 1989 in Illinois to Edward Sr. and Tammy Metoxen. Sean graduated from the University of Wisconsin at Oshkosh, and was a proud member of the Oneida Tribal Police Department. He enjoyed Gaming, the Cubs, Packers, and Blackhawks, but the time spent with family and friends is what mattered the most to him.
Sean is survived by his parents; Edward Metoxen Sr., Tammy (Andrew) Metoxen, his siblings; Edward Jr. (Ana) Metoxen, and Tyler Metoxen. His girlfriend Dala and her boys Maverick and Carter, his dogs shady and Stella as well as grandparents, aunts, uncles and cousins also survive Sean.
Friends may call at RYAN FUNERAL HOME 305 N. Tenth Street, De Pere from 4:00PM – 8:00PM on Monday May 8, 2017. The Oneida Hymn Singers will sing at 6:30PM. Visitation will continue after 9:00AM Tuesday at Church of the Holy Apostles 2937 Freedom Road, Oneida. The funeral service for Sean will take place at 11:00AM with Pastor Ann Bullis officiating. Burial will follow at the Sacred Burial Grounds. The Oneida Hymn Singers will sing at 10:30AM. Please go to www.ryanfh.com to send online condolences.
Special thanks to the Oneida Community for their support and prayers during this difficult time.