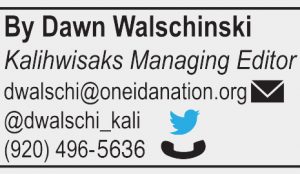 The Oneida Trust and Enrollment Committee (OTEC) have been sounding the alarm bells for a couple of years now. New enrollments are starting to dwindle. They would love to head off a future enrollment crisis, but it seems the larger Oneida community is ignoring the sirens.
OTEC is trying to be responsible and proactive, but our population doesn't seem to be interested. Granted, determining who is enrollable is an issue that causes more fights than what's a privileged question at a General Tribal Council meeting, but still, the discussion needs to be held now.
Thus, I shall take a cue from the newspaper industry that started the Spanish American War and kick this crisis off. Therefore be it resolved that anyone who does not contact the Enrollment Office with their ideas and opinions on the enrollment issue is hereby removed from the roles.
Because, yeah, I have that kind of power. Uh-huh. Don't believe me? Just ask Joe Nahte. Who's Joe Nahte you ask? Exactly!
Why is my abuse of my fictional power the best way forward? Because it will cull all the citizens who are genuinely uninterested in Oneida unless there's money to be made. Granted, there will be some responsible, intelligent, very good looking Oneidas who read the Kalihwisaks cover to cover and will contact their slacker friends and relatives to alert them to the reaping, but there will be others who won't notice anything is amiss until their October 1 check doesn't come in the mail – just like Joe Nahte.
The truth is inertia will settle the question for us if we do nothing. There will be fewer and fewer Oneidas to make the decision for us if we wait.
What makes a community a community? It's interaction between its people. It's the sharing of ideas, conversations, meals, work and play. Shared history, events, births, marriages and deaths. It's family, and our family is starting to get cut off by an arbitrary fraction.
Check out the Sustain Oneida Facebook page or email sustainoneida@oneidanation.org with your ideas.