Tank, Donna J.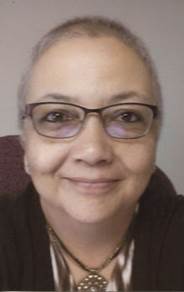 Donna J. Tank, 55, of Oneida, passed away on Wednesday, May 3, 2017, from a courageous 1 ½ year battle with pancreatic cancer. She was born February 28, 1962 in Kaukauna, WI, daughter of the late William Jr. and Arlene (Krueger) Metoxen.
Donna grew up and attended school in Freedom, WI. She married James Tank on May 23, 1993. The couple had two children, Emily Claire Rose and Daniel James, both of Oneida.
In 2001 Donna met Alan Wieseler (the Hubby) of Winneconne, WI; the couple spent the past 16 plus years together traveling, site seeing, and enjoying Donna's favorite pastime of motorcycle riding. Donna was also an avid Denver Broncos fan and enjoyed participating in Drag Racing, collecting Elvis memorabilia and most importantly spending time with her loved ones.
In November of 1993 Donna began working at Oneida Casino in the vault department, after a year she transferred to the slot department where she worked for the next 22 years and was able to meet and work alongside some great people.
Donna is survived by her daughter, Emily Tank; her son, Daniel Tank; fiancé Alan Wieseler; sisters and brothers: Carol (Bob) Olsen, Illinois; Audrey (Bob) Littlefield, Illinois; Pee-Wee (Lynn) Metoxen, Oneida; Terry (Lisa) Metoxen, Oneida; sister-in-law, Connie Cox, Seymour; nieces and nephews: Jerome Webster, Oneida; Jermaine Webster, Oneida; Bradley and Brandon Thomas, Oneida; Josie Metoxen, Illinois; Cassandra (Chris) Brunette, Briseis, Anneliese, Jacelynn, Oneida; Drew Metoxen, Seymour; and Jennifer Metoxen, Seymour. Donna is further survived by her best friends, Barbara Jean and Barb (Headly) both of Appleton; ex-husband, James (Tina) Tank of Shiocton; and Donna's fur babies: Bruiser, Duke and Alice.
She is preceded in death by her brother, Ray Cox and nephew, Josh Webster.
Friends may call at Muehl-Boettcher Funeral Home, Seymour on Sunday, May 7, 2017 from 4-8 pm and visitation will continue at St. Peter Lutheran Church, Freedom on Monday, May 8, 2017 from 9:30 am until services at 11 am with Pastor Jim Fleming officiating. Burial will take place at Highland Memorial Park, Appleton. Online condolences may be expressed at www.muehlboettcher.com.
Donna and her family would like to send a special thank you to Unity Hospice, Green Bay Oncology and St. Mary's of Green Bay for all your care and concern.
2 Responses to Tank, Donna J.