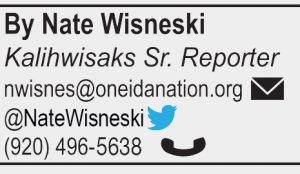 The fourth time was the charm for Oneida based blues band Big N' Tasty as they took home the Wisconsin Area Music Industry's (WAMI) award for 2017 Blues Band of the year. The band was nominated in the category of the past three years.
Wisconsin's top musicians and industry notables were recognized for their contributions to the state's diverse music scene at the 37th annual Wisconsin Area Music Industry (WAMI) Awards Show, held Sunday April 23rd at Turner Hall in Milwaukee. Awards were presented in various categories, ranging from recognition for musicianship and recordings to industry-related technical areas, with recipients from all areas of the state.
Going into the ceremony the members of the band already felt like winners as they were named the house band for the night.
"Being asked to be the house band for the ceremony was an honor to say the least. Most of us didn't even know we were up for nomination. I was beside myself when I got the call from WAMI Board Member Jason Lipsky. We began getting as much input from the band members in just a few hours and we started working on material immediately," said guitarist Keith Cottrell.
The exciting grew exponentially after hearing their name called as Blues Band of the Year.
"We were in the company of some great blues bands that we respect and are friends and fans of. The thought of being the house band, plus winning a WAMI in the category you're nominated and also being presented the award from CEO Kris Raymond of Paramount Blues association, which we are members, was really heart touching and the feeling was incredible," said Cottrell. "It was hard to hold our composure but we still had a job to do for the rest of the evening. Needless to say, we had a bit more spring in our step the remainder of the evening."
With the win still sinking in, the band is now turning their attention to their busy summer performance schedule and finishing their second album of original material.
"We've got a couple festivals coming up and will spend all of May preparing for those. We currently have a self-titled 10 song CD in circulation, with around eight more original songs in the works for our second CD. We're hoping to get it out this summer," said Cottrell.
The band's performance dates will be posted on the Big N' Tasty Blues Facebook page soon.
Big N' Tasty consists of Big Brad Skenendore, Holly Larson, Keith Beechtree, Paul Exworthy, Quint "Caveman" Stevens, Dennis Vandenberg, Erik Bertaud, Keith Cottrell, band manager Warren Reiter and sound technician Tara Cottrell.
"It's not an easy task to keep all these individuals and their personal agendas in sync, but as a band family, as we like to call it, we work hard together to get things done," said Cottrell. "I couldn't be more proud of these folks. We've come a long way in a short time and we are surely blessed to be able to do what we love. I don't know many who can say they love their job as we do and you can hear it in the music."
3 Responses to Big N' Tasty named one of Wisconsin's best
tim ninham says: May 4, 2017 at 7:25 pm

outstanding,outstanding,semperfi
Julie Hennessey says: May 10, 2017 at 9:47 am

Where can I buy a cd?
Nate Wisneski says: May 10, 2017 at 10:50 am

You can contact Warren Reiter, the band's manager, at [email protected].