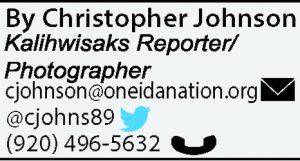 When 23-year-old Cassandra Thomas left Oneida to begin her higher education on the sprawling campus of UW-Madison, she knew she wanted a career in engineering or biology that would enable her to help people. Thomas, a 2012 graduate of West De Pere High School, says while growing up her mother was a driving force in her career ambitions.
"My mom has always been my role mode," Thomas said. "She's been sick and that helped push me towards the medical field which is why I was thinking about a biology degree as well. I just wanted to help make her life better and I realized with an engineering degree I could actually build something to make her feel better. Biomedical Engineering was just that perfect middle ground."
While visiting Madison prior to her freshman year she met another Oneida Nation member, Melissa Metoxen, who was an advisor at the time to all of the Native American undergraduate students on campus. That meeting helped set the stage for Thomas' academic debut in the relatively new Biomedical Engineering program at the University.
Now the Community and Academic Support Coordinator for Native students at UW-Madison, Metoxen works closely with students and helps guide them towards a successful collegiate career. "Depending on what a student's interests are and what they want to do with their career we find different opportunities for them to enhance their experience," Metoxen said. "That way when they are looking to medical school, graduate school, or a health professional program they have a really strong application.
"Cassandra was always interested in engineering but she was a few years into it before she knew she really wanted to go into Biomedical Engineering," Metoxen said. "I was just basically helping make sure she was connecting with various resources that were available to her and getting involved in different programs and opportunities to help prepare her for the career path that she was working towards.
"She also took time out of her schedule to volunteer for us by helping mentor high school students who are also interested in careers in the health field," Metoxen said. "Cassandra is great at talking about what it takes to be successful in a very difficult major because hers is one of the hardest majors on campus."
Not only is Thomas a trailblazer in a field where she is the first Oneida Nation member to graduate with this degree, she is also doing so in a field where there are not a lot of women actively involved or even attempting to enter this line of work. "It's really unique that she was able to do this and be successful and graduate," Metoxen said. "I just think that this says an awful lot about her as a person."
"This is a fairly new program in Madison and it was nice to get into it," Thomas said. "My original plan was to get a biology degree and go on to medical school but they showed me this program which was engineering and biology and it was a perfect fit.
Thomas says her ultimate goal in life would be to graduate from medical school and work for the Oneida Community Health Center. "This is my ultimate goal because this community is what I grew up with," Thomas said. "I want to get back here, but for now my near-term ambition is to go with the engineering degree because I want to build prosthetics."
The next step in Thomas' academic journey is graduate school. "I've already applied to several graduate programs including Northwestern and Michigan State," Thomas said. "I haven't heard back from them yet but I want to go into prosthetic designing and those schools are the best programs for that field in the area."
Given her desire to return to the immediate area after graduation, Thomas already has her eyes set on a few local companies that design and build prosthetics. "One place is Hanger Clinic on the east side of Green Bay," Thomas said. "I've been in contact with them because I want to shadow them to see what it's like to build prosthetics. I think once I get some experience in this field I would like to create my own company right here in Oneida so I can build prosthetics that are not only cheaper in cost but more suited for the Native American lifestyle."
With her Biomedical Engineering undergraduate degree in hand and graduate school on the horizon, Thomas knows she has a bright future ahead of her and many career options wide open for the choosing. She is also aware that many younger members of the community may be interested in following in her footsteps.
"I would highly recommend getting involved in summer programs," Thomas said. "The only reason I knew about this particular program is because I just happened to go through UW-Madison's engineering summer program otherwise I'd probably be on an entirely different road right now. Get involved and search for what you want. It's a lot of hard work but you really have to push yourself because if you really want something you need to experience it first-hand so you are positive that's what you really want."
Thomas is the daughter of Paula and Lee Thomas of Oneida and the granddaughter of Cinderella Koepke and Winnifred Thomas of Oneida.