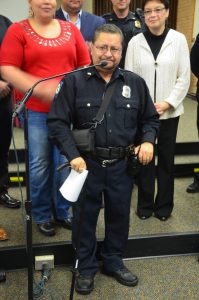 The Oneida Police Department (OPD) is proud to have Daniel Jourdan among their ranks today. Jourdan, 54, was recently diagnosed with cancer and one of his lifelong dreams was to be a police officer. OPD Chief Rich Van Boxtel and several other officers were on hand at this morning's Oneida Business Committee meeting to officially swear Jourdan in as an Honorary Officer with the department. If you see Officer Jourdan be sure to congratulate him.
3 Responses to Daniel Jourdan sworn in with OPD
tninham says: March 22, 2017 at 6:08 pm

outstanding, drive with due regard as they taught us at the police academy officer d joudan
Tina Jourdan says: March 25, 2017 at 10:17 am

Thank you OBC & OPD for making this a moment Dan and I will never forget. He had an awesome time. God Bless.
Candace (Jourdan) House says: May 6, 2017 at 5:46 pm

How wonderful for Dan, that's awesome. Congratulations Officer Dan:)