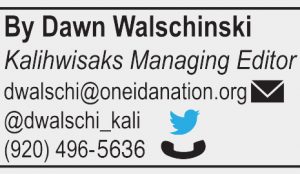 To celebrate International Women's Day on Wednesday, March 8, women were encouraged to wear red and take off work as part of the Day Without Women.
Had Oneida's female employees participated in not going to work, Human Resources Department (HRD) General Manager Geraldine Danforth is certain what would have happened.
"My goodness, we would have had departments shut down," said Danforth.
There are 1,649 female employees out of the 2755 total – 60% of the workforce.
"I think because we're a matriarchal society … the majority of the women are the leaders," said Danforth.
Currently, six of nine Oneida Business Committee members are women, including Chairwoman Tina Danforth.
"Women are the givers of life and the backbone of our families. We empower one another and collectively we shall rise to see a better future for our families, our communities and those we interact with," stated Chairwoman Danforth in an email.
Maureen Metoxen stated working for Oneida is very different than her experience working for paper company James River, now Georgia Pacific.
"There were very few women that worked there," said Metoxen. "All the bosses were men. All the big bosses, the heads of the mills, were all men."
Terry Hetzel believes Oneida is gender blind when it comes to hiring and promoting.
"Oneida doesn't look at gender to decide who's getting to the top, it's not about the good old boys club being a male, it's just people and their qualifications," said Hetzel.
Some Oneida departments have significantly more women than men such as HRD with 3 male employees out of 33 total. Male majority departments tend to mirror traditionally male jobs such as plumbing and technology.
Vickie Krueger is a Systems Administrator for Oneida's Management Information System (MIS) Department. She is one of 19 women in a department of 56. She sees women making headway in traditionally male professions.
"It seems like women are better at multitasking, and to work in (Information Technology), you can't just focus on one thing, you need to multitask," said Krueger.
According to Danforth, studies have shown women tend to be more compassionate bosses and more understanding when it comes to family issues.
"I think that perception of that women can't do the job isn't true in this organization," said Danforth.
One Response to Day Without Women shines spotlight on Oneida workforce
Jenny S says: March 23, 2017 at 5:50 am

Inspiring article, Christopher. It will definitely change people's perspective.

Jenny ~
TUTU app