Photo courtesy of Lisa Rauschenbach
Mr. Titletown winner Marcus Rauschenbach with dance partner Molly Elliot.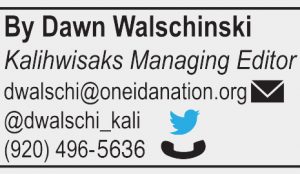 No one was more surprised to win a dance off than Marcus Rauschenbach.
The Mr. Titletown competition held Sunday, February 26 at the Radisson Hotel and Conference Center came down to a tie, and the Southwest High School senior had to show off his moves for victory.
"When they said it would be decided by a dance off, I said, 'ok I'm definitely not winning' because I'm a very bad dancer, especially on the spot, but I just went with it and did what I could, and it turned out fun." said Rauschenbach.
Rauschenbach was nominated by his teachers to enter Southwest's King of Troy contest to win a chance to enter the annual Mr. Titletown competition. Mr. Titletown is held to raise funds for safe after-prom-parties and graduation parties. Rauschenbach raised $1200 for his school.
"My favorite part was all the support from my friends and family that came out and the crowd from all the schools was just insane, it was just a fun atmosphere," he said.
The Mr. Titletown competitors are judged by a talent contest, DuBois formalwear show, funds raised, and crowd participation. Rauschenbach defeated Mr. Denmark in the dance contest to win the event.
"It was fun to compete against other schools. They had such good competition, and I'm just really thankful to be selected to be a part of something like that," he said.
Rauschenbach plays center for the Southwest Trojan's basketball team. He plans to attend Northern Michigan University next year to play left guard for their football team.