Webster, Audrey M.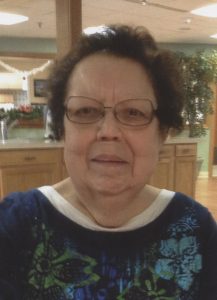 Audrey M. Webster, 71, of Oneida, passed away on Thursday, February 9, 2017, at St. Vincent Hospital. She was born July 18, 1945, daughter of late Arthur and Josephine (Wheelock) Webster.
Audrey was a member of Oneida United Methodist Church. She was an Avid Elvis fan, enjoyed crossword puzzles and casino trips. Audrey was a great family caregiver.
She is survived by her siblings: Shirley Blum, Donny (Alma) Webster, and Irvin Webster; Godchild, Marla; also, survived by many nieces, nephews, other relatives and friends.
Audrey was preceded in death by her brothers and sister: Robert Webster, Marty Webster, Marie Scott, Arthur (Rita) Webster, Jr., Clifford (Wanda) Webster; niece, Rhonda Webster; and nephew, John Webster.
Friends may call at Oneida United Methodist Church on Monday, February 13, 2017, from 9:00 am until the funeral service at 12 noon with Pastor Ann Bullis officiating. Burial in the parish cemetery.
Online condolences may be expressed at www.muehlboettcher.com
Muehl-Boettcher Funeral Home, Seymour is assisting the family with arrangements.
A special thank you to Dr. Tracy Sherman for all you did for Audrey.