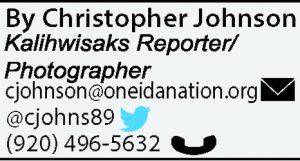 As the Second World War finally came to a close in 1945 and American war heroes returned home, Oneida's warrior community established its "Robert Cornelius" Veterans of Foreign Wars (VFW) Post 7784 which quickly became a pillar on the reservation. However, unlike the higher profile VFW, many in the community are less aware of the auxiliary branch of the post and the support services they provide.
Chartered in 1949, Oneida's VFW Auxiliary (then known as the Ladies Auxiliary) followed a stringent set of national criteria regarding who was permitted to join. In recent years those requirements have been loosened up in an effort to increase membership. "They changed the membership criteria by national vote," Oneida Auxiliary Chapter President Debbie Danforth said. "So now it's opened up to anybody, male or female, who has a relative who served in overseas combat but they still have to meet some membership criteria."
The primary mission of the VFW Auxiliary is to serve the veterans of the community and honor those sacrifices and commitment every man and woman made while in uniform, Danforth said. Some activities the auxiliary engage in include assembling and mailing care packages to active duty troops, holding send-off and welcome-home events for local troops, raising awareness of Post-Traumatic Stress Disorder (PTSD), visiting veterans in hospitals and nursing homes and even offering youth scholarships. Oneida's Auxiliary is also known for assisting VFW Post 7784 at General Tribal Council (GTC) meetings, Grand Entries for Powwows, memorial services for veterans and their families as well as Memorial Day ceremonies at cemeteries where community veterans and Auxiliary members are laid to rest.
"We do a lot for the community," VFW Auxiliary Vice President Kathy Hughes said. "But there's so much more we could do if we had more active members who are able to do more physical things. Younger people bring in new ideas as well and on a national level we're always being encouraged to come up with fresh ideas for what we can do for our communities in regards to fundraisers and things of that nature. There's a lot of need out here for our veterans and there's a lot of work that we could be doing if we had more members, so that's very key for us right now."
"I think one of the things that is commendable for the auxiliary," Danforth said, "is when we recently had a young, single mother who was in the process of joining the auxiliary. She had volunteered to assist the auxiliary at several events and fundraisers and unfortunately she died very unexpectedly last September. So the auxiliary "adopted" her two children, ages 10 and 13, and bought Christmas gifts based upon their list of needs and prepared a donation box for the Christmas meal and we donated that to her family."
With a current roster of 55 registered members, the Oneida VFW Auxiliary is always looking for new people to join to provide support to the community as well as provide new ideas and perspectives. "We're always looking for more members," Danforth said. "It almost always ends up being the same people who do all the fundraising and things like that. We're all getting older, not younger, which is issue right now because we have turnover and we're losing some of the older women. So we're trying to get some younger, energetic people in who can take on the world."
Anybody that is interested in joining the auxiliary is encouraged to attend any of their meetings. The Oneida VFW Auxiliary meets every third Wednesday of the month at the Oneida VFW Post building located at 2980 Service Road at 5:30 p.m.
One Response to VFW Auxiliary continues serving Oneida community
tim ninham, us navy,vaw-124 says: February 7, 2017 at 3:26 pm

they do a outstanding job,without any fanfare, yo rahh