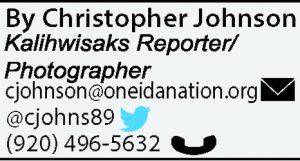 Winter has made its presence felt throughout the Midwest over the past several weeks and Oneida's Department of Public Works (DPW) and its Groundskeeping crews have been hard at work ensuring all roads, highways and walkways are safe for driving and walking in Oneida. The recent snow, which turned to sleet and ice, made travelling on the reservation extremely hazardous and prompted the closure of schools and tribal operations on Tuesday, Jan. 17.
"We've had a lot of ice buildup throughout the area over the past few days," Redmon Danforth, Jr., Groundskeeping Manager, said. "So our department has been doing its best to keep up with it and eliminate the ice as best as we can. It was kind of hard with the really cold temperatures because the salt wasn't melting it as well as we would have liked so we had to salt and scrape and keep going over it all."
The several square miles of roads and highways within the reservation boundaries aren't the only areas of responsibility the Groundskeeping Department oversees. "We also have all the parking lots and sidewalks for all of the tribal buildings that need to be maintained as well," Danforth said. "We have the critical areas that take priority when it comes to snow and ice removal such as the Anna John Nursing Home, Retail operations, and the casinos as well. From there we work our way down the list."
With four dump trucks and anywhere from 10-15 pickup trucks available for use during an event such as this, the Groundskeeping Department is always prepared to hit the road running when inclement weather strikes the area.
Danforth oversees a staff of 18 people and receives assistance from other tribal entities as well. "Other departments such as Custodial, Facilities and Plumbing, along with a few others, come together and assist with various areas that need to be maintained," Danforth said. "So this is very much a coordinated team effort."
Crews worked around the clock during this week's ice storm in order to ensure safety and improved travel conditions. "Sometimes the number of hours worked will vary depending on conditions," Danforth said. "With this last storm we just had we've been averaging 15-18 hour days. As of this moment it looks like we're caught up, other than a few calls for more salting in certain areas, but now that it looks like the temperatures are starting to warm up we shouldn't see any more trouble spots.
"I really want to thank our staff for all of the hard work they've put in over the past several days," Danforth said. "They all basically put their personal lives on hold to work some long hours and put their own safety at risk to help keep everybody else in Oneida safe during this recent storm. There's no way we can get all of this done in a timely manner without their hard work and dedication."