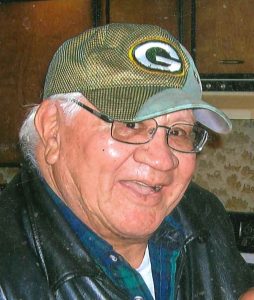 Clayton L. Elm, 80, Oneida, peacefully passed away after a short battle with cancer on Thursday January 19, 2017. The son of Guy and Mamie (Green) Elm was born March 29, 1936. Clayton served his country in the U.S. Marine Corps. Clayton enjoyed working on cars, watching NASCAR, Packer games, and playing horseshoes. He was also an avid coon hunter all his life.
He is survived by his children, Clayton (Celene) Elm, Kurt Elm. Cherie Elm, one sister Mildred Elm, and his faithful hunting dog, Rosie. His grandchildren further survive; Raven (Mike) Nooyen, and their children, Cheyenne, Avery, Pierce, and Seneca. Brionne Elm, and her children, MaKaelyn, Cody, Marcus, Cincere, Azzie, Anaya, and Aleah. Autumn Elm, and her children, Audrus, Arthur, and Dusty. Douglas Elm and his children, Nadia, and Makenzie. Jadria Elm, Richard Lotni Elm-Hill (Desirae) and their child, Asher. As well as Qanah and Quincy Vasquez.
Clayton was preceded in death by two sons; Douglas and Paul, one grandson Dustin Elm, his brothers Emil "Bud", Forrest, Lemuel, Raymond, and two sisters Delores, and Shirley.
Friends may call at RYAN FUNERAL HOME 305 N. Tenth Street, De Pere after 9:00AM Sunday January 22, 2017. A Prayer Service for Clayton will be held at 11:00AM. Full military rites as well as lunch to follow. Please go to www.ryanfh.com to send online condolences to the family.
The family would like to thank Unity Hospice, St. Vincent Cancer Center and 9th floor staff and Dr. Bodvarsson, and Dr, Vir for their care and support.
One Response to Elm, Clayton L.