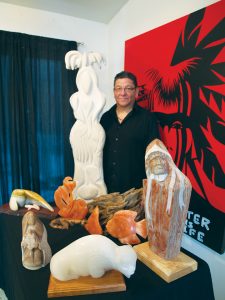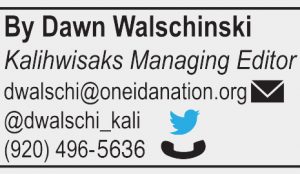 Scott Hill turned to Oneida's matriarchal past for imagery for his winning trophy design for Thornberry Creek LPGA Classic taking place July 3-9, 2017.
"The theme was Oneida culture, so I thought Sky Woman's perfect," said Hill.
The trophy design features a woman's face with a swan in her hair and the three clans at the base.
"I wanted it to be about women … and so part of it is about our Creation; Sky Woman coming to the earth and this swan represents her being caught."
Hill's design beat out about a dozen entries. He has been doing sculptures since the early 80s, but he's new to designing for bronze.
"It will be challenging because it's my first time," said Hill.
Hill will also be able to showcase his sculpting skills during the event.
"During the week of the tournament from (July) third to the ninth I have to do a replica in clay of the process of the trophy being designed. So it will be filmed, televised every day, so people will be able to see the process," said Hill.
Hill usually prefers to work with alabaster stone. He learned his techniques while working with sculptor Presley LaFountain.
"When I teach stone sculpting, it's intimidating because there's a lot of work to do, and it's a hard medium to work with," said Hill. "But if you start on something small and simple like a little turtle … and show them the whole steps of the process, and they complete it, then that satisfaction of making nothing into something … that makes you want to do another one."
For more information about the Thornberry Creek LPGA Classic, visit http://www.thornberrycreeklpgaclassic.com/