Wilson, Pauline Ethel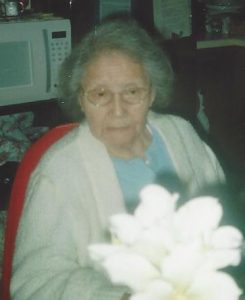 Age 87, of Waubeka, passed away peacefully with her family by her side on Sunday December 18, 2016, at Lawlis Family Hospice in Mequon. She was born in Oneida, Wisconsin on September 30, 1929; daughter of the late Henry and Marion (Smith) Metoxen.  Pauline was united in marriage to Lawrence Wilson and was a beloved wife for over 50 years.  She was a true Christian woman and the World's Greatest Mother.  She loved nature and had a wonderful sense of humor and enjoyed her pet Chihuahua, Stella.  Pauline's favorite phrase in life was "Be Good to Each Other."
Pauline is survived by her husband, Lawrence; 9 children: Larry, Vicky, Daniel, Debra (James) Pirwitz, Diane McNaughtan, Errol, Pamela (Johnie) Medina, Colleen, and Dorothy Cornette; 48 grandchildren; many great and great great grandchildren; and further survived by many extended family and friends.  She was preceded in death by her sons, Lester and Dale; brothers, William and Whitney; and sister:  Angie.
Visitation will be held at Roubal Funeral Home on Thursday December 22, 2016, from 10 am until the time of the Funeral Service at 11am. Interment will be in the Pembine Cemetery.
Online condolences may be expressed at www.roubalfuneralhome.com
Roubal Funeral Home of Wausaukee is assisting the family with arrangements.