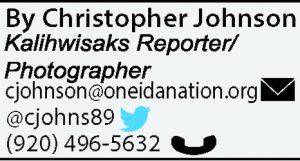 With one full year under their belts in Marinette & Oconto (M&O) Conference play, the 2016-17 Lady Thunderhawks varsity basketball squad looks to build upon last year's learning experiences and make a concerted playoff run this season.
"We have a great opportunity this year," Head Coach Jamie Betters said. "We have a lot of great leadership at the senior level and this is our second year in the conference so we have an idea as to who we are playing as far as those fun rivals go. I am also thrilled with the great group of incoming freshmen we have this year so the Oneida ladies will be looking good for a while."
Playing basketball for a smaller school like Oneida has its definite advantages for players once they reach the varsity level. The amount of experience gained on the hardwood by the time they are seniors is invaluable.
"We have some great senior leadership on this team that possess all different skill sets," Betters said. "That's one of the most exciting aspects of our senior group here. With the loss of Makayla Welch to graduation we are expecting some good leadership from Jashon Killspotted, Laiyah Lee and Sondra Torres because, again, all of these girls have experience from the past four years. Welch was our three-point killer and we're going to lose a little bit of that but we definitely have some up-and-coming girls who can shoot the ball."
One of the other advantages of playing for a smaller school like Oneida is the tight cohesion and comradery that clearly exists among the ladies on this year's squad.
"My expectations are to just leave it all out there on the court his year," Senior point guard Laiyah Lee said. "This is my last year and of course we would love to go to regionals and move on to sectionals. I just really want to enjoy my final year with my fellow Lady T-Hawks as much as I can. The support for our team is always appreciated and I just want to shout out to my mom who has always been my number one supporter."
"I plan on giving it all this season," Senior guard Sandra Torres said. "This is my last year so I'm going to put it all on the court and do what I have to do to help my team out. We have a lot of young ones on the team now so I'm going to help them out as much as I can before the season ends."
"I expect everybody to work hard like we always do," Senior forward Jashon Killspotted said. "Even in practice we are always going 100 percent, if not more, to be as prepared as we can be for the games. I think we're going to have a strong defense this year and we're looking forward to the season."
With the arrival of the new season Betters, now in her eighth year at the helm for the Lady Thunderhawks, is also asking for continued local support for the girls. "We're definitely looking for community support for these ladies," Betters said. "They put a lot of effort into this on and off the court and are incredibly great role models for our younger girls down at the middle school and elementary level. So we want to be able to collaborate that to not only strengthen our program but also strengthen that support throughout our community."