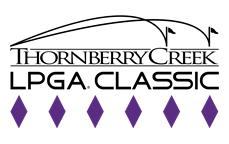 The Thornberry Creek LPGA Classic today announced that volunteer registration for Greater Green Bay's first-ever LPGA Tournament is now open via www.thornberrycreeklpgaclassic.com. Additionally, tickets for the inaugural event will be available on the tournament website beginning November 15.
The Thornberry Creek LPGA Classic debuts July 3-9, 2017 at Thornberry Creek at Oneida, a course owned by the Oneida Nation and managed by Oneida Golf Enterprise Corporation. The tournament will feature a 144-player field competing in a four-day, 72-hole stroke-play format with a $2 million purse.
"Together with the Oneida Nation, the LPGA and our local partners, we are thrilled to welcome the world's best players to the Thornberry Creek LPGA Classic this summer," said Kelly McAnally, IMG Tournament Director. "Whether you're volunteering at the tournament or buying tickets to attend with your family, you can count on an incredible golf and hospitality experience."
Volunteer committees for the 2017 Thornberry Creek LPGA Classic include Player Transportation, Operations, Scoring and Marshals. Tournament officials are also seeking individuals with prior professional golf volunteer experience to serve as committee chairpersons. The registration fee to volunteer is $75 and includes tournament apparel, four weekly grounds passes, one parking pass, food and beverage during volunteer shifts and one round of golf at Thornberry Creek at Oneida with greens fees waived ($25 cart fee still applicable).
A full slate of ticket options will debut on Nov. 15 at www.thornberrycreeklpgaclassic.com including grounds passes (one day – $25; weekly – $70), clubhouse access and hospitality plans. Active duty, retired  or reserve military, Oneida Nation of Wisconsin Tribal Members, and children ages 17 and under accompanied  by a ticketed adult will receive free admission to the tournament.
"We are committed to providing an atmosphere unlike any other at the inaugural Thornberry Creek LPGA Classic," said Josh Doxtator, Chief Operating Officer, Thornberry Creek at Oneida. "The Oneida Nation and its 17,000 members are extremely proud to bring the best players in the world to our community. We are working diligently with our partner, IMG, to create an experience that has yet to be seen on the LPGA Tour, and we look forward to sharing our culture, our people and our brand to the world."
For more information about the Thornberry Creek LPGA Classic, visit the tournament's social media handles www.facebook.com/thornberrycreeklpga/, www.twitter.com/thornberrylpga, and www.instagram.com/thornberrycreeklpga/
3 Responses to Thornberry Creek LPGA Classic seeks volunteers and announces ticket plans
Gary Scheel says: March 26, 2017 at 6:56 pm

How do I apply to be a volunteer to work at the LPGA

What position available ?
I'm retired and would like to Volunteer
Nate Wisneski says: March 27, 2017 at 11:17 am

Hi Gary,
All the information you are looking for can be found at http://www.thornberrycreeklpgaclassic.com. There is a section for volunteers.
Phil Merlie says: May 26, 2017 at 5:32 pm

Who is the committee chair person for the Marshals and how do I contact them?