Pelky, Penny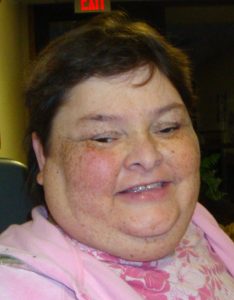 Penny Pelky, 53, Oneida, passed away peacefully just before sunrise on Saturday morning October 8, 2016 surrounded by her family. She was born August 26, 1963 to Winnifred (Skenandore) Pelky and the late James Pelky. Penny loved life and everyone around her.  She was struck with Multiple Sclerosis at a very young age.  As the disease progressed Penny found a way to keep her spirits up and continue the fight of its debilitating effects.  She struggled through the years and worked to stay positive.  She was a loving daughter, sister, aunt, and a dear friend to so many.  She was strong through her suffering but always helping, loving, and providing friendship to those she cared for and loved.  Penny loved spreading joy, cheer, and inspiration.  One of her special gifts was to tell a joke and she had many.  She was a bright light and kept a smile on the faces of those around her.  Whether it was doing crafts with friends or sitting with an ailing friend in their last days Penny always took the time to be there.  Her love was lasting and there for all.  She made baby blankets and rugs as a specialty when she had her dexterity.   Coming from a very large family Penny was blessed with a multitude of Nieces and Nephews.  She kept current with each and every one.  You often would see her creating gifts for each of them during the Holidays.  All the children loved Penny and would gather around her.  Some of Penny's favorite things were her birds at Anna John Sweetie and Junior.  She would spend hours sitting with them while enjoying friendships and visits from family.   Penny kept smiles on the faces of those all around her.   Penny liked to keep her days full.  She was able to work at Curative Rehabilitation in Green Bay.  Penny would always seek to keep light for those around her.  She was a motivational speaker for Green Bay Prisoners.  Also she worked at Pizza Hut folding boxes and wrapping silverware while providing cheerful company to those she interacted with.
As a youth Penny was in Christian Youth Action for St. Mary's in Kaukauna. In her early years you would see Penny singing at church in St Mary's Choir in Kaukauna.  On Sundays she was a volunteer at Bingo for St Mary's in Kaukauna.  She loved to bowl and play softball.  She worked for Weber's Supermarket, Piggly Wiggly, Pizza Hut, and DLu Furniture during the days when she had her health.
She is survived by her mother, Winnifred, her siblings, Peter (Kymberley) Pelky, Patricia (Ray) Heckner, Patrick (Lisa) Pelky, Paul (Melody) Pelkey, Kurt (Ellen) Pelky, Paige (Greg) Finkel, Kevin (Jacqueline) Pelky, Kim (Joseph) Cackowski, and Kristal (Chad) Hill. Penny is further survived by 38 nieces and nephews and 19 great nieces and nephews. She was preceded in death by her father.
Friends may call after 9:00AM at St. Joseph Catholic Church, 145 St. Joseph Dr. in Oneida on Friday October 14, 2016. The Oneida Hymn Singers will sing at 10:00AM followed by the Mass of Christian Burial at 10:30AM with Fr. John Chrysostom Katamba officiating. Please go to www.ryanfh.com to send online condolences to the family.   RYAN FUNERAL HOME, De Pere is assisting g the family.
Penny we love you and you will be dearly missed. You will be in our hearts for eternity.  Rest in Peace for God loves you.  We know you will look down on us and smile.  We are all smiling back as we now know you are at peace and perfected.  Rest our daughter, sister, aunt and dear friend and Basque in the glory of our Lord Savior Jesus Christ.
We would like to thank the staff at Anna John Nursing home for Penny's care through the years. Also thank St. Vincent Hospital and St Mary's and all her doctors.