Parker, Daniel Roy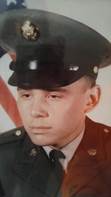 Daniel Roy Parker, 58, Oneida, passed away peacefully at home on Thursday, October 6, 2016, with his family by his side. The son of Andrew Parker and Shirley (Kurowski) (Parker) Hill was born on December 21, 1957.
Dan grew up in Door County and graduated from Gibraltar High School in 1976. He was recruited to play professional baseball, but he enlisted in the Army upon graduation and served his country for 21 years. He retired as a Sergeant First Class.
"Danno" was a humble, kind and driven man, and had many experiences in his short 58 years. He ran marathons, attended culinary school in Arizona, wrote music and took great pride in his service to his country. He loved animals of all kinds, and enjoyed playing poker (or "pokey," as he called it) with friends.
He will be remembered for his contagious smile and laughter. Dan had a kind heart, and was always willing to help others, whether he knew them or not.
Daniel is survived by his parents, Andrew Parker and Shirley (Kurowski) (Parker) Hill; children, Shana Parker (Chris Piepenburg), Jessica Parker (David Hoffmann); grandchildren, Angel "Papooski" Parker, Jaxon and Tate Parker-Hoffmann.
He is further survived by his siblings, Elaine (Wayne) Metoxen, Connie (Phil) Skenandore, Bruce Parker, Janice (Marvin) Jourdan, Randy (Geraldine) Parker, Lonnie (Kathy) Parker, Liane (Frank) Melchert, Todd (Michelle) Hill, Reese (Lori) Hill, Racquel (Duane Skenandore) Hill and special nephews Galen Metoxen and Gavin and Dwight Hill, as well as many other family members and friends.
Daniel was preceded in death by his mom, Betty Parker, dad, Fritz Hill, maternal grandparents, Grace and Peter Kurowski, fraternal grandparents, Andrew Parker Sr. and Cecilia Parker. He was further preceded by his brother, Rory O. Hill and nephew, Marco A. Vasquez.
Family and friends may call at Oneida United Methodist Church, N6037 County Road E, Oneida, from 4:00-6:00 PM on Sunday, October 9, 2016. The Oneida Singers will perform at 5:30 PM.
Visitation will continue on Monday, October 10, 2016 at 9:30 AM. The Oneida Singers will perform at 10:30 until the funeral service at 11:00 AM.
Ryan Funeral Home, De Pere, is assisting the family. Please go to www.ryanfh.com to send online condolences to the Parker family.
A special thank you goes out to his sister, Connie, for keeping him comfortable in his final months. The family would also like to thank St. Vincent Hospital, Unity Hospice and their caring staffs, as well as Alice from Helping Hands and all those who came to visit and offer support, for their compassion during this difficult time.