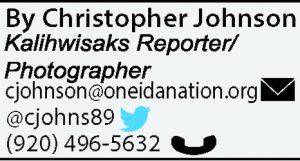 Charlene Smith has never been one to back down from a challenge. The more difficult the obstacle the enrolled Oneida citizen and attorney is faced with the more she relishes the opportunity to overcome it.
"When I started out years ago I was in my early 30s," Smith said. "I was a divorced mother of four children with very little education. I needed to work and go back to school so I could get a job to support my children."
The first stop on her academic odyssey was the Sacred Heart School of Nursing in Milwaukee where she earned her Licensed Practical Nursing certification. This eventually led to her receiving her bachelor's degree in nursing from Alverno College all the while working part-time and full-time jobs to continue to take care of her children. Perhaps the most remarkable part of Smith's story isn't just the fact that she decided to go back and finish college as an adult. "I was, in the beginning, a high school dropout with a GED (General Education Development) certificate," Smith said.
After graduating from Alverno, and with all of her children now grown adults, Smith became a nursing supervisor and eventually a Nurse Manager and worked in the medical field for several years. But Smith's lust for new challenges was far from satisfied. She decided she wanted to become an attorney. She took the LSAT (Law School Admission Test) and, at the age of 45, was accepted into Marquette University Law School.
"I graduated from Marquette Law School at the age of 48," Smith said. "It was a bit of struggle for me, especially early on."
That struggle paid off handsomely for Smith who, upon graduating, opened her own law office in downtown Milwaukee where she practiced for four years. After placing an attorney advertisement in the Kalihwisaks, Smith was contacted by then Division Director for Compliance Lloyd Powless who wanted to recruit her to come back and work for the Oneida Nation.
"I thought that was a wonderful opportunity and I am always up for a challenge," Smith said. "So I closed my law practice in Milwaukee and made the move up here to Oneida where I worked for the tribe as a paralegal and attorney for 18 years. I helped train paralegals and with Lloyd's permission I also began taking on more than just employee representation cases. I became involved with cases that dealt with family law, wills, small claims, evictions and a lot of criminal defense in Outagamie and Brown Counties."
Feeling there was a larger need within the tribal community for adequate representation since the closing of the Oneida Legal Resource Center, Smith dived head-on into helping those in need at a low cost. "We did have to start charging tribal members something minimal for these cases," Smith said. "When we did that we found that they had an investment with their own case and it also helped cut down on the number of frivolous cases."
In 2014, after nearly two decades of working for the Oneida Nation and its members, Smith made the decision to step away from practicing law to care for her ill husband, the late David "Smitty" Smith, who passed away in November 2015. "So I found myself retired and caring for my husband," Smith said. "I'm still mourning but lately I've found myself needing something more to do. You can only wash your floors so many times so I decided to go back to work since it has its definite rewards."
Deciding to throw her hat back into the legal ring wasn't a difficult decision for Smith. With the encouragement of her granddaughter and now paralegal assistant, Samantha (Sam) Molkentin, Smith has recently started her own practice in Oneida, Smith Law Office, and is ready for a whole new set of challenges.
"Sam's the one who really gave me the push to get going," Smith said. "She's been a tremendous asset to the beginning of this firm."
"She's the driving force behind this whole thing," Molkentin said. "This wouldn't even be possible without her dedication and willingness to push and strive for this in her younger years. I honestly want to be an attorney now just to follow in her footsteps because my role model in my life is my grandmother."
A strong testament to Smith's dedication to her chosen profession is the fact that she has never had a single complaint lodged against her in her many years of practicing law. "I just really hope to be an asset to the Oneida community in regards to legal representation in my chosen areas of law," Smith said. "Lawyers are like doctors these days in that they are very specified in certain areas because the laws change so frequently. So in order to do a good job I'm going to be taking cases that involve criminal defense and family law. And I only plan on practicing in Oneida Tribal Court and in Brown and Outagamie Counties."
Smith is the daughter of the late Arlene Hornada and granddaughter of the late Alice Powless. She has four children and one stepdaughter and is a member of Zion Lutheran Church in Oneida.
She resides in Oneida.