One of the One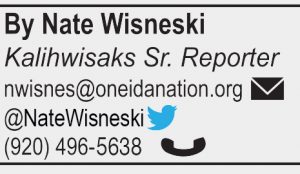 ida Nation Thunderhawks football team's biggest stumbling blocks every year will not challenge them this season. A full roster will enter the 2016 season as they host Oakfield on Friday, August 19 for the season opener.
"We are at 19," said head coach Bryan Peterson. "Our roster is young with only three seniors, a handful of juniors, and the rest are sophomores and freshman."
Though they are young, they are not short on experience and talent.
"We were really short numbers last year so the young players had to play. We are projecting to have at least two freshman starters, maybe three." Peterson said.
The teams leadership will be provided by upperclassmen. Returning starting linebacker Sandra Torres, who was third in the conference in tackles, will anchor the defense while wide receiver Melvin Matson and quarterback Seth Charles will lead the offense.
"Sandra came back in great shape this year and ready to go. Melvin Matson is our big play threat. He averaged over 20 yards per catch last season and has looked sharp in this year's camp," raved Peterson. "Seth Charles really matured in the offseason, he also looked really good in practice and our scrimmage."
Offensively, the Thunderhawks will have a different approach than previous seasons.
"We changed from the past, it's not that hard core 1920's football. It's a west coast offense, a lot of throwing the running back out of the backfield and misdirection," said Peterson. "A lot of the other coaches in the conference I was too predictable. And we have a ton of speed this year."
Defensively, the team will be a work in progress this season.
"Defense has always been our struggle. It looked better in our scrimmage last week, quaPeterson said.
Peterson has not let his team's youth temper expectations.
"I want to make the Jamboree. I think we have the talent. I liked to make it to say we've been there when it existed," Peterson said. "This is a 6-2, 5-3 type team."
In order for the Thunderhawks to qualify for the Jamboree they need to be one of the top four teams in their half of the state. There are 12 teams in their way.
In order for that to happen Peterson needs his youth to mature quickly.
"We need the freshman and sophomores to age fast. If they do, we have a great shot to reach that goal."
The schedule makers didn't do the Thunderhawks any favors when it came to their home slate of games.
"We have a rough home schedule this year. All of our home games are against teams that made the jamboree last year," Peterson said.
The Oneida Nation Thunderhawks open the season against Oakfield on Friday, August 19. Game time is 7 p.m.