Elm, Raymond S.
January 5, 1935 – July 22, 2016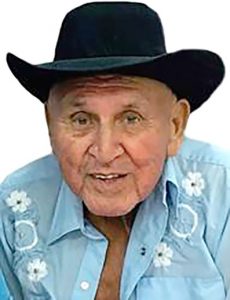 Raymond S. Elm (Kawliga), 81, pulled out for the last time, on Friday July 22, 2016. The son of Guy and Mamie (Green) Elm was born on January 5, 1935. Ray served in the U.S. Navy. He was an over the road truck driver until the day he died. He enjoyed being on his farm, surrounded by his horses and his dogs Chelsea, E-bo and Jackson. He also enjoyed gambling at the Oneida Casino.
Survivors include his wife Evelyn Elm, one son, Gregory T. Elm "Untwan", one special granddaughter, Michaela Peters "Marcy", one sister, Mildred Elm, one brother, Clayton Elm, nieces, nephews, cousins and many special friends. He was preceded in death by his brothers, Emil "Bud" Elm, Forrest Elm, Lemuel Elm, two sisters, Delores Terrazas, and Shirley M. Elm.
Family and friends may call at Assembly of God Church, Highway 54, Oneida from 11:00 am to 1:00 pm on Monday July 25, 2016. Oneida Hymn Singers will sing at 12:30 pm. Private Family Memorial Service will be held at 1:00 pm Monday at the church with Brother Lonnie Johnson, officiating. Ryan Funeral Home and Crematory of De Pere is assisting the family with arrangements. Please visit www.ryanfh.com to send online condolences to the Elm family.