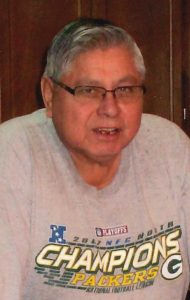 Clifford S. Danforth, 63, Oneida, joined his Creator on Wednesday, July 6, 2016. The son of Pete and Sabie (King) Danforth was born July 12, 1952 in Green Bay.
Cliff was a 1970 graduate of Seymour High School. He spent many years working for the Oneida Nation in the gaming division.
He enjoyed golfing, bowling, shooting pool and gambling with his friends. He was also an avid Packer fan and loved coaching baseball.
Cliff will be remembered for his laughter, jokes and fun loving personality.
Clifford is survived by his children, Raymond "Ranger" (Christl) Christjohn, Carla (Brian) Vigue, Collette Stevens; siblings, Betty Skenandore, Mary Ann (Alton) Kruckeberg, Patricia Lynn (Harvey) Skenandore and Eugene "Geno" (Patricia) Danforth; siblings-in-law Dorothy Danforth, Marilyn Danforth, Erma Danforth and Frank Skenandore; special friends Donna Thorstenson, Danny Skenandore and Phil "Mickey Mouse" Frederick; many grandchildren, great-grandchildren, favorite nieces and nephews and many other relatives and friends.
He was preceded in death by his parents, Pete and Sabie, siblings, Bill, Tony, Reggie, Frederick, Joann and Peter Danforth, and Yvonne Skenandore; siblings-in-law Tony Skenandore and Reggie Denny, as well as other extended family.
Friends and family may call at RYAN FUNERAL HOME, 305 N Tenth Street, De Pere, on Monday, July 11, 2016 from 4:00 to 7:00 PM. The Oneida Singers will perform at 6:30 with a Big Drum performance at 7:00 to close the evening.
Visitation will continue on Tuesday, July 12 (Cliff's Birthday) at 9:00 AM at Holy Apostles Episcopal Church, 2937 Freedom Road, until service begins at 11:00 AM. Burial will follow at Holy Apostles Cemetery.
Please go to www.ryanfh.com to send online condolences to the family.
The family would like to extend a special thank you to the Oneida Casino Security personnel for their care and compassion during such a difficult time.