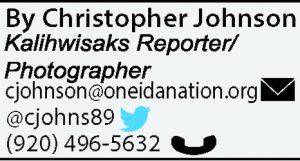 Commitment. Hard work. Excellence. Words that go hand-in-hand for many working professionals but to actually see 19-year-old Neilson Powless demonstrate them as he lives his dream is amazing. Powless, a 2015 graduate of Roseville High School in Roseville, Calif., had already established himself as an All-State multi-sport endurance athlete when he decided he wanted to give competitive bike racing a shot, and his growing track record of success quickly followed.
"My parents were both triathletes so I began competing in triathlons from a very young age," Powless said. "With racing in triathlons you're always involved in swimming, biking, and running so I pretty much grew up doing all three. I was also involved in swimming and running cross country for school but by my junior year I began to get serious about cycling."
By his senior year of high school he felt the need to choose between running and cycling and when the opportunity to race in World Cup competitions with the Mountain Bike National Team came up, his decision was made. "I graduated half a year early my senior year so I could travel and race," Powless said. "After graduation I switched to road cycling so 2015 was actually my first year competing in road racing. It was a pretty smooth transition but I had to relearn some tactics because road racing is so different from mountain biking and the races are so much longer."
His first full year of road racing yielded mixed results. Powless tallied 85 races in all of 2015 and admits last year was a steep learning curve. "It wasn't that big of a deal though because I never had any pressure to go for any personal results," Powless said. "I was always just trying to help my teammates and was always more of a worker bee. So this year is really the first opportunity I've gotten to race for myself and have teammates helping me and the results have been pretty successful so far."
During that first year of competitive road racing, Powless was able to network with other racers from various teams around the country and contacted representatives of team Axeon Hagens Berman. Powless became the newest member of that professional racing team.
"They took a bit of a leap of faith with me and I think they've been pretty happy with it," Powless said. "I try my best to make it pay off for them and I think it's working out pretty well for both of us.
Powless works closely with his coach Todd Heriott to set seasonal goals and has already exceeded them all this year. "Racing and being successful in California recently was sort of unexpected because racing at that level was kind of hard to set goals with," Powless said. "So we've been riding the wave lately and it's just been really incredible."
So far in 2016 Powless has already logged 34 races, and his rocket-like improvements from last year are impossible to miss. He has amassed four victories and eight top-three finishes in the first six months of this year alone, and there is still plenty of road racing yet to be had this season.
Reaching the pinnacle of any professional sport requires a dedication and mindset well beyond the norm. "I definitely wasn't expecting the results I've gotten this year, but I guess it shows the amount of time and dedication I've had this past winter and it's really showing through," Powless said. "I spent all of last December in Tahoe training and then going home every other day because it's best to do hard training at low elevations and then sleep at higher elevations at night. That way you get the benefit of increasing your red blood cells and you're able to push yourself just as hard as you normally would in training."
Skill, good fortune, as well as having excellent trainers, have all played a pivotal role in keeping Powless healthy so far in his young career. "I think it's something that carried over from mountain biking," Powless said. "I'm a really good bike handler so I've been able to escape a lot of the crashes that have happened around me. I haven't had any bad crashes so far and with last year being my first year I'm somewhat surprised I've made it through more or less unscathed.
"I got sick twice last year but this year I've been on top of paying attention to what my body is telling me," Powless said. "I'm always making sure I have enough protein and taking vitamins and if I feel anything coming on I let staff members know so we can try to tie it off before it gets bad."
Qualifying for the World Championships is the primary objective for all professional road racing teams and Powless is cautiously optimistic that he will make his way to this year's festivities scheduled for October in Qatar. "I'm not sure if I've qualified just yet but I'm pretty sure I'll be going," Powless said. "My coach and I are planning my short breaks and races accordingly and hopefully I can have a successful trip there."
Powless also has some sound words of advice for young people who may have aspirations of getting into bike racing. "Just have fun with it," Powless said. "That's what my parents always made sure was ingrained in my system. You can't really force anything, it really just has to be something you really want to do and pursue. If you don't really love something it's going to be pretty hard to be successful at it. That's the reason I'm so successful with cycling is because I love being on my bike and I like the places it takes me."
Powless is the son of Jack and Jeanette Powless of Roseville, Calif., and the grandson of Matt Powless of Oneida.