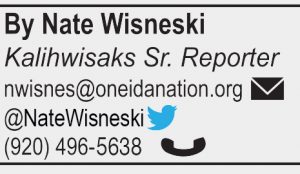 Most 24 year-old college seniors spend their last year of school fine tuning resumes and finalizing their studies. That's not the case for John Danforth.
Danforth has taken ownership of the Hidden Valley Driving Range.
"I drive by here everyday. I said this place could use a little loving. I think I could make some really good improvements here," said Danforth.
He spent much of his fall semester contemplating approaching the driving range's owner about a possible sale. He made the call in December.
"It took about four months but I signed the papers on April 15," said Danforth.
A job in golf caught the attention of Danforth in high school.
"The First Nations Golf Association had a junior golf program. They had a national tournament where they brought a bunch of native kids to Oklahoma. I was 16 and got to meet the course's Superintendent. He said he works outside, rarely in his office and hasn't worked a day in 16 years. That comment stuck with me," Danforth said.
Shortly after that trip the tribe bought Thornberry Creek at Oneida where Danforth worked through high school and college.
"It grew on me little by little. From there I went to the Golf Academy of America in San Diego and every summer I came back and worked at Thornberry. Then I went to River Falls after the Golf Academy. I tried doing the Horticulture Program and realized that having a horticulture degree is constrictive," said Danforth. "If I was getting a free meal ticket to an education I decided I needed something more broad. It led me to UWGB to study business but I wasn't ready to give up on golf."
In Danforth's decision-making process he spoke with past and present customers of the driving range to gauge their concerns.
"They said the balls, the grass and that no one was here. I looked at those immediate needs and addressed them right away. The first thing I did was cut grass," said Danforth.
Along with the improved grass areas Danforth is on site much of the day and a higher quality range balls are on the way.
While Danforth has thought about long range plans for the site, such as heated hitting docks and golf simulators, he is happy focusing on the property's main function.
"Right now, in the short term, this is a driving range. That's what I need to focus on. I get a lot of people giving me great ideas. I write things down and listen to what they have to say. They are some common things people want but I need to make this the best driving range that I can," he said.
A big aspect of making it the best driving range it can be was the manual labor needed to improve the grounds.
"Weed whacking, it's probably the biggest thing I had to do. I'm also seeding and getting the grass to grow in the tee area, just cleaning up and clearing trees. I haven't done this all alone. I've had about 10 people that volunteer helping clean up," Danforth said.
Hidden Valley Driving Range is located at 390 Dexter Road in Oneida. You can follow them on Facebook at www.Facebook.com/HiddenValleyDrivingRange.