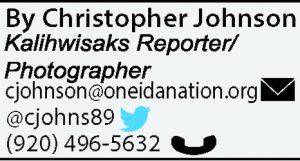 Synala Smith had never picked up a lacrosse stick in her life prior to three years ago when she was convinced to join the Green Bay United Griffins Girl's Lacrosse team by her good friend Sonya Sommers. Smith, 18, a senior honors student at Green Bay Southwest High School, fell in love with the sport immediately and quickly became one of the team's top defensive players.
"Girl's lacrosse is a really new sport which is why we had to unite the schools," Smith, an Oneida Nation citizen, said. "It's becoming more popular but the first year they didn't even have enough people to play the whole field. But this season we have doubled the number of players and we can actually sub players in and out so it's grown a lot over the past few years."
The Griffins, a combined team consisting of high school players from Green Bay's Southwest, West and Preble High Schools, has been in existence for four years but due to the small number of players the sport itself has yet to be sanctioned by the Wisconsin Interscholastic Athletic Association (WIAA). As a result of not being sanctioned, the Griffins play a small number of teams from Appleton, Wausau and Neenah. The team typically plays nine games over the course of a season which lasts from January through the end of May.
This year the girls began conditioning drills for the season in January but due to the long and harsh winter they have only recently been able to get outside onto a grass playing field. "We had been practicing in West High School's gym from 7 p.m. until 9 p.m. every night," Smith said. "Once the snow finally melted we were able to get out here. It's 'no contact' lacrosse so it's a lot different than what the boys play but a lot happens in practice and games. There have been a few minor leg and ankle injuries and some shoving so it does get aggressive at times. But I think it's perfect."
"Synala has developed as a player outstandingly," Griffin's first-year Head Coach JoAnn Polomis said. "She came in as a sophomore and she was aggressive but now she is one of the best defensive players we have. She can snag a ball and she just knows where she needs to be on the field on defense. Her presence is there and she will direct players on the field so she is a very strong asset to the team. Synala is my queen of defense…my 'Queen of D' as I call her."
Although it took some time to get the Griffins going in the right direction this season, Polomis is optimistic and happy with the leadership she has seen from her older players. "It took us a few games to get our team chemistry down because we had new girls coming in from four different high schools," Polomis said. "But I can see these girls developing and some of our seniors, like Synala, are taking the younger players under their wing and showing them proper playing techniques."
The most rewarding aspect of picking up the game of lacrosse and playing for the Griffins has been the bonding and camaraderie with the other players and coaches that developed with participating in the team sport, Smith said. "We have our team dinners and we get to bond a lot and everybody has gotten really close even though we don't go to the same schools," Smith said. "But I feel like I have better relationships with them than I do with people at my own school. And the coaches are just really cool. Every year I'm just really happy with them because they're such good coaches."
The whole concept of teamwork is on full display with the Griffins. "If we're playing a game there's never the blame game thing going on if we're falling behind or if somebody scores a goal on us," Smith said. "It's not just the goalies' fault or the defense' fault. It's on everybody. And it's the same when we score a goal because everybody contributed to that. It truly is a team effort when we play our games."
Not only has Smith established herself as a key defensive leader on the playing field she has also set herself up to be an academic inspiration to her younger teammates. "I transferred from Oneida to Southwest after 8th grade," Smith said. "The work ethic was different and I had a lot more homework than I did in 8th grade. It was a struggle at first and socially it was different because for example nobody had seen 'Smoke Signals' and nobody knew what fry bread was. So it was a huge transition for me socially as well as academically, but now I'm ready to graduate with honors and head to the University of Wisconsin -Stout.
"I plan on majoring in mechanical engineering and I want to work with renewable energy because of how things are right now with pollution and the environment and how people are treating the earth," Smith said. "So that's what I decided I want to work towards. You can do a variety of things with that degree and maybe a minor in sustainable energy."
For any girls that might be interested in giving lacrosse a shot don't let inexperience be a deterrence. "This is just a really fun sport," Smith said. "I was an okay volleyball and basketball player but I was just a natural at this one and picked it up very easily. If anybody comes out for the team this is completely new because there aren't that many experienced players so this is new for everybody."
For the 'Queen of D,' the end of her lacrosse story may be in sight since UW-Stout does not field a women's lacrosse team, but that may change once she gets to graduate school and attempts to fulfill her academic dreams at UW-Milwaukee.