WIC – Helpful Links
---
The following links may be helpful in navigating different aspects of WIC.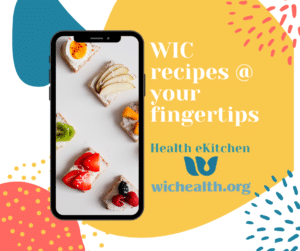 WICHEALTH.ORG
WICHealth.org is a website where you can find recipes and complete nutrition education lessons. If a lesson is completed here, benefits will be automatically loaded to your card at your next reload interval. If you have not signed up and would like more information, please call our clinic at 920-869-4829.
WISCONSIN MYWIC APP
This app is available to download for free. With it, you can:
See your account balance
Scan items in the store to see if they are a WIC item on your account
Find nearby stores that accept WIC
See upcoming appointments and contact information for your clinic
Access helpful links such as the WIC Shopping Guide, WICHealth.org, and shopping tips
WIC RIGHTS AND RESPONSIBILITIES
At every WIC certification appointment, a guardian and/or caregiver must sign this document before receiving WIC benefits. The document is included here for reference: WIC Rights and Responsibilities.
This institution is an equal opportunity provider. For the full Nondiscrimination Statement, please click here.