Just Move It-Oneida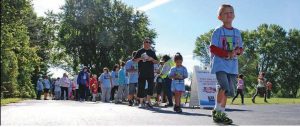 Just Move It is a North American campaign to promote physical activity for Indigenous Peoples.  Events are open to families of all ages.  Every new registrant who participates receives a free t-shirt.
Just Move It-Oneida is coordinated by Oneida Health Promotion as part of the Diabetes Prevention Program.
Events
2019 Event Dates & Locations
All events at Oneida Nation Elementary School unless specified.
| | | | |
| --- | --- | --- | --- |
| Wed | Jan 9: | 4-6:30 pm | New Year Walk |
| Wed | Feb 20: | 4:30-7 pm | Family Fun Night |
| Wed | Mar 6: | 4-6:30 pm | Marching Toward Health |
| Wed | April 24: | 4-6:30 pm | Spring into Action Walk |
| Wed | May 22: | 4-6:30 pm | Memorial Walk |
| Wed | June 19: | 4-6:30 pm | Kickoff to Summer Fun (Oneida Lake) |
| Wed | July 24: | 4-6:30 pm | Summer Walk (Oneida Lake) |
| Wed | Aug 21: | 4-6:30 pm | Beat the Heat Walk (Oneida Lake) |
| Sat | Sept 28: | 9-11:30 am | Oneida Diabetes Walk |
| Sat | Oct 19: | 9-11:30 am | Spooktacular Walk |
| Wed | Nov 13: | 4-6:30 pm | Fall Walk |
| Wed | Dec 11: | 4-6:30 pm | Jingle Walk |