Services
Wellness & Fitness Assessments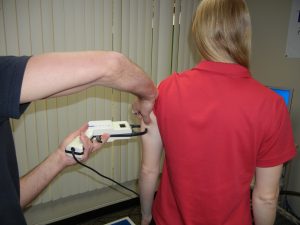 Let our Fitness Team help you achieve your fitness & wellness goals by taking advantage of our FREE Wellness & Fitness Assessment.
A WELLNESS PROFILE is a great tool to use in assessing your total well being.  A trained fitness specialist will walk you through a questionnaire that focuses on the following areas: exercise, nutrition, safety, tobacco, and stress management.  The results will provide you with an overall assessment of your total well being as it relates to your lifestyle.
FITNESS ASSESSMENTS evaluate your current fitness levels and progress.  It's a great tool to ensure your desired goals are achieved.  An assessment will include the following components of physical fitness: blood pressure, body weight, body composition, flexibility, muscular strength, and cardiovascular fitness.  From this assessment, your progress can be monitored and realistic goals can be established and achieved!
* Assessments are available for ages 10 and older.
** Call our Fitness Specialist Team at (920) 490-3852 to schedule an appointment.
Personal Training
Are you looking for someone to motivate you and push you a little harder? We have several Certified Personal Trainers with varying fitness backgrounds that can help you. Some benefits of working with a personal training include:
Improve your fitness level
Increase knowledge by learning proper techniques  
Design a fitness plan that fit your needs
Hold you accountable to set and meet your fitness and wellness goals
See desired results sooner
We offer a variety of Personal Training Packages.
Click Here for our Rate Brochure.
If you are interested in purchasing a training package, please contact at (920) 490-3730.
Child Care
We are pleased to network with the Oneida Child Care Services Program to provide FREE on-site drop-in child care for our members.  Child care accepts children 6 weeks – 10 years old.  Space is limited; feel free to call ahead to ensure availability (920) 490-3886.
Child Care Hours (hours are subject to change)
Monday – Friday (8:00 a.m.-12:00 p.m. / 1:00 p.m. – 4:30 p.m.)
**Closed the 2nd Tuesday of each month from 8 – 10 a.m.**
UPCOMING CLOSURES
Wednesday, April 11      8:00 p.m. – 4:30 p.m. for Training
Thursday, April 26         3:00 p.m. – 4:00 p.m. for Staff Meeting
To access our free drop-in child care, members need to enter through the Economic Support entrance of the Social Services building.  This is 3 entrances to the left of the fitness center. 
Shake & Snack Shop
Relax and replenish after a workout with one of our hand made protein shakes.  Fresh fruit and fruit juices are used. Assorted snacks, drinks, and fresh fruit also available for purchase. Protein shake punch cards are available for your purchasing convenience.   
Click here for a list of our protein shakes.
Click here for our protein shake nutrition facts.
Recipe of the Month
  CLICK HERE for a printable version of this recipe.
Fruity Arugula & Spinach Salad
Vegan, raw, gluten-free, soy-free, refined sugar-free
Yield: 2 servings | Prep Time: 5 min | Total Time: 5 min
   
Ingredients: The Salad
2 cups (60 g) spinach
1 cup (30 g) arugula
1 avocado, cubed
1 orange, chopped
1 cup (150g) red grapes, halved
1/2 cup (65 g) walnuts, raw or roasted*
1/4 small red onion (40g), sliced thinly
Ingredients: The Dressing
1 Tbsp (15 mL) olive oil
1 Tbsp (15 mL) balsamic vinegar
1 lemon, juiced
Directions
1. Toss all ingredients in a bowl, or arrange neatly on the bed of greens.

2. Combine the ingredients for the dressing in a separate bowl and whisk until combined.

3. Pour over salad, toss, and enjoy!
Notes
*Optional: you can toast and lightly candy the walnuts on medium-low heat on the stove with 1 tsp. maple syrup, stirring continuously for ~3 minutes or until slightly golden.
Pro Shop
Visit our PRO SHOP for all your Oneida Family Fitness gear.  We have various styles of men & woman's size tanks, t-shirts, sweatshirts, shorts, capris & sweat pants.  We also have available for purchase:
*Gift Certificates          * Padlocks
*Water bottles              * Head phones
* Protein                        * Sack packs / Duffel bags
* Swim caps                  * Martial Art uniforms & supplies
* Lil' swimmers            * Goggles  
* Small exercise equipment (foam rollers, exercise ball, eye pillows)
We also have TOWEL RENTAL available if you are in need of a work out towel or shower towel.  
* Work out towel: $0.25 each
* Shower towel:  $0.50 each
* Package of (25) Work out towels:  $5.00
* Package of (25) Shower towels:  $10.00

Nike N7
Nike Air Zoom Native 3 N7 NOW AVAILABLE at the Fitness Center.
*Men's and Women's Sizes: $65.00
CLICK HERE to view Men's N7 style       CLICK HERE to view Women's N& Style     
*ALL orders are Non-Exchangeable and Non-Refundable
Team Oneida Bellin Run
LACE UP….JOIN TEAM ONEIDA!
Bellin Run/Walk 2018
Children's Run:   Friday, June 8 at 6:00 p.m.
10K Walk/Run:   Saturday, June 9 at 8:00 a.m.
Registration available now ONLINE at www.bellinrun.com  or Register at Oneida Family Fitness with the attached registration form.
Team Oneida Password: 716
Online Tax Code: TaxFree25 (until 5/1)
Documents
Important registration info!
Online Registration Deadline: May 1
Paper Registration Deadline: April 30
First 200 participants will receive:
Team Oneida Shirt
$10 Gas Card after completion of race
Running Waist Pack
VIP Delivery of race packets (you can pick up packets at Oneida Family Fitness)
Training info: Oneida Family Fitness offers FREE Run/Walk Trainings Monday, April 2. Trainings will be available on our Spring Group Fitness schedule, which will be available in the next week.  More training information is available on the Bellinrun.com website.
Call our Team Captain Hanna Leisgang at Oneida Family Fitness (920) 490-3730 or Email [email protected] for questions.