Services
Wellness & Fitness Assessments
Let our Fitness Team help you achieve your fitness & wellness goals by taking advantage of our FREE Wellness & Fitness Assessment.
A WELLNESS PROFILE is a great tool to use in assessing your total well being.  A trained fitness specialist will walk you through a questionnaire that focuses on the following areas: exercise, nutrition, safety, tobacco, and stress management.  The results will provide you with an overall assessment of your total well being as it relates to your lifestyle.
FITNESS ASSESSMENTS evaluate your current fitness levels and progress.  It's a great tool to ensure your desired goals are achieved.  An assessment will include the following components of physical fitness: blood pressure, body weight, body composition, flexibility, muscular strength, and cardiovascular fitness.  From this assessment, your progress can be monitored and realistic goals can be established and achieved!
* Assessments are available for ages 10 and older.
** Call our Fitness Specialist Team at (920) 490-3852 to schedule an appointment.
Personal Training
Are you looking for someone to motivate you and push you a little harder? We have several Certified Personal Trainers with varying fitness backgrounds that can help you. Some benefits of working with a personal training include:
Improve your fitness level
Increase knowledge by learning proper techniques  
Design a fitness plan that fit your needs
Hold you accountable to set and meet your fitness and wellness goals
See desired results sooner
We offer a variety of Personal Training Packages.
CLICK HERE for our Rate Brochure.
If you are interested in purchasing a training package, please contact at (920) 490-3730.
Child Care
We are pleased to network with the Oneida Child Care Services Program to provide FREE on-site drop-in child care for our members.  Child care accepts children 6 weeks – 10 years old.  Space is limited; feel free to call ahead to ensure availability (920) 490-3886.
Child Care Hours (hours are subject to change)
Monday – Friday (8:00 a.m.-12:00 p.m. / 1:00 p.m. – 4:30 p.m.)
**Closed the 2nd Tuesday of each month from 8 – 10 a.m.**
UPCOMING CLOSURES
May 14 (3:00pm-4:30pm) for Staff Meeting
May 24 for Code Talkers Day
May 27 for Memorial Day
June 18 (2:30pm-4:30pm) for Remodeling
June 19-24 CLOSED for Remodeling
*will reopen June 25 at 8:00am
To access our free drop-in child care, members need to enter through the Economic Support entrance of the Social Services building.  This is 3 entrances to the left of the fitness center. 
The Fit Cafe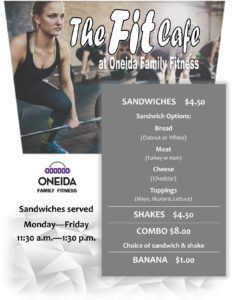 Relax and replenish after a workout with one of our hand made protein shakes or made to order sandwiches. 
Fresh fruit and produce is used. Assorted drinks, and fresh fruit also available for purchase.
Sandwiches will only be sold
Monday – Friday, 11:30 a.m. – 1:30 p.m.
*Protein shake punch cards are available for your purchasing convenience.   
CLICK HERE for our protein shake and sandwich nutrition facts.
NOW AVAILBLE at The Fit Café!
Various sports & energy drinks available for purchase
Recipe of the Month
  CLICK HERE for a printable version of this recipe.
Slow Cooker Chicken Chili
Yield: Serves 8|  Active Time: 20 Min.| Total Time: 8 Hours, 20 Min.
   
Ingredients
3 (15-oz.) cans unsalted cannellini beans, rinsed, drained, and divided
1 (25-oz.) can hominy, rinsed and drained
3 cups unsalted chicken stock (such as Swanson)
2 cups peeled cubed butternut squash
1 cup chopped yellow onion
2 tablespoons ground cumin
1 tablespoon chili powder
1/2 teaspoon kosher salt
2 garlic cloves, chopped
2 oregano sprigs
1 (5-oz.) can diced green chilies, drained and divided
1 1/4 pounds skinless, boneless chicken thighs
1/2 cup plain low-fat yogurt
6 tablespoons fresh cilantro leaves, divided
2 ounces pre shredded reduced-fat cheddar cheese (about 1/2 cup)
1/4 cup chopped green onions
1 jalapeño, thinly sliced
Lime wedges
Directions
Step 1
Process 1 can beans in a mini food processor until smooth. Place bean puree, remaining 2 cans beans, hominy, and next 8 ingredients (through oregano) in a 6-quart electric slow cooker. Reserve 1 tablespoon green chiles. Add remaining green chiles to cooker. Top with chicken thighs. Cover and cook on LOW 8 hours.
Step 2
Place chicken on a cutting board; cool 5 minutes. Shred chicken; stir into chili. Cover and keep warm.
Step 3
Process reserved 1 tablespoon green chiles, yogurt, and 2 tablespoons cilantro in a mini food processor until smooth.
Step 4
Place 1 1/2 cups chili in each of 8 bowls; top evenly with yogurt mixture, remaining cilantro, cheese, green onions, and jalapeño. Serve with lime wedges.
Nutritional Information
Calories 337 Fat 7g | Sat Fat 2.2g | Mono Fat 1.9g | Poly Fat 1.6g | Protein 29g | Carbohydrate 41g  Fiber 10g | Cholesterol 6mg | Iron 4mg | Sodium 638mg | Calcium 195mg
Sugars 5g | Est. added sugars 0g
Pro Shop
Visit our PRO SHOP for all your Oneida Family Fitness gear.  We have various styles of men & woman's size tanks, t-shirts, sweatshirts, shorts, capris & sweat pants. 
We also have available for purchase:
*Gift Certificates
* Padlocks
*Water bottles 
* Head phones
* Martial Art uniforms & supplies
* Protein 
* Sack packs / Duffel bags
* Swim caps 
* Lil' swimmers
* Goggles
* Small exercise equipment (foam rollers, exercise ball, eye pillows)
TOWEL RENTAL is also available if you are in need of a work out towel or shower towel.  
* Work out towel: $0.25 each
* Shower towel:  $0.50 each
* Package of (25) Work out towels:  $5.00
* Package of (25) Shower towels:  $10.00
Nike N7
Nike Air Zoom Native 3 N7 NOW AVAILABLE at the Fitness Center.
Men's and Women's Sizes: $65.00
CLICK HERE to view Men's N7 style      
CLICK HERE to view Women's N& Style     
*ALL orders are Non-Exchangeable and Non-Refundable
Team Oneida Bellin Run
BELLIN PACKETS ARE READY FOR PICK-UP!!!!
Packets must be picked up by
Friday, June 7 before 7PM

Saturday, June 8, 2019
8:00 AM
Registration ONLINE ONLY at http://bellinrun.com/
2019's Team Oneida Picture will be taken at 7:20am @ Astor Park
Questions? Contact Hanna at Oneida Family Fitness
Phone: (920) 490 – 3730
Email: [email protected]