Classes
Food Safety
FOR IMMEDIATE NOTICE:
Public Health officials recommend social distancing when possible to slow the COVID-19 global pandemic. All in-person Oneida Food Handler's Courses will be temporarily cancelled effective March 12, 2020 through June 12, 2020. EHS will assess reconvening in-person courses after this time.
EHS staff is currently working to develop an online option for all community members who wish to or need to take Oneida Food Handler's certification and re-certification courses. We anticipate having this option finalized and ready for use very soon and will communicate availability as soon as it is complete. 
Please contact Vanessa Miller, Sanitarian, at 920-869-4553 or [email protected] with any questions.
The Oneida Food Service Code requires all individuals who wish to sell food at any Nation event or in nation owned buildings to complete a food safety course. Our aim is to educate our food providers and have only the safest food products served in our community.
2020 Class dates: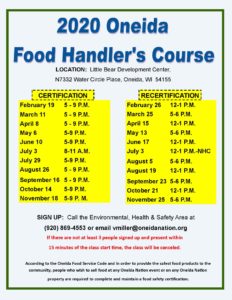 All classes are located at:
Little Bear Development Center, N7332 Water Circle Place Oneida, WI 54155
CALL to reserve a spot in class: (920) 869-4553
All classes must have at least 3 people signed up and present within 15 minutes of the start time, otherwise the class will be cancelled.
For more information contact Vanessa Miller,  Sanitarian at (920) 869-4553.
Hunter Safety
The Hunter Safety class instills in students the knowledge and skill to be a responsible and safe hunter. Students learn how hunting accidents are caused and how they can be prevented. Hunter responsibility and safety are stressed throughout the class. We strive to ensure this safety course helps you become a more knowledgeable and ethical hunter. Educated hunters play an important role in Oneida.  All hunters who were born on or after January 1, 1973, must complete hunter education certification in order to be eligible for an Oneida Sportsman License. 
There will be two Hunters Safety courses offered by the Oneida Conservation Department in 2018. Please register as soon as possible to ensure a spot in the class.  
Registration is now full for both classes.  Please see http://dnr.wi.gov/education/outdoorskills/safetyeducation.html for other local hunter safety courses available.  
Class 1
Date:    February 26th – March 14th, 2018
When:  Every Monday and Wednesday evening
Time:    6-8 p.m. 
Where: Oneida VFW Post 7784, 2980 E. Service Rd. Oneida, WI 
Fee:       $10 per student, payable the first night of class
Class 2
Date:     March 19th – April 4th, 2018
When:  Every Monday and Wednesday evening
Time:    6-8 p.m. 
Where: Oneida VFW Post 7784, 2980 E. Service Rd. Oneida, WI 
Fee:       $10 per student, payable the first night of class
To register or for additional information: please contact Oneida Conservation at (920) 869-1450 or e-mail: [email protected]
If these dates do not work with your schedule, please use this link to find other local Hunter's Safety courses:  WI Safety Courses.
Plant Gathering
Medicinal plants gathering classes are offered by staff in season for tribal members personal use of wild bergamot (#6) and sweet grass. Dates will be posted as determined annually.  View this guide Number 6 gathering 2016 for more information on wild bergamot.
Pet Education
For more than 20 years the EHSD Pet Safety Program has promoted a safer community by sponsoring healthier, more socialized pets thru; immunizations, obedience classes and discounted dog house and straw sales.  The Pet Safety Program will now sponsor a free pet education class which will discuss: 
Pet Immunizations
Tribal Incentive/Gift Card Program
The updated Tribal Domestic Animal Ordinance
Basic Dog Care and Equipment
This class is open to all community members, although you must register to reserve your spot.  Registrations will be taken until Monday February 5, 2018.  This class is intended as an information only meeting, please leave your pets at home during class-time. 
Where:   Little Bear Development Center
When:    Tuesday February 6, 2018
Time:      5-6 p.m.
Cost:       Free
Register by: Monday February 5, 2018
To register or if you have any questions, please contact: 
Steve Linskens, Project Manager at (920) 869-4571