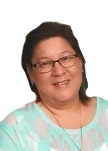 Tina Gwen Bos, 53, of Green Bay, passed from this life on July 21, 2017, surrounded by her family after a three-year battle with cancer. The daughter of Vivian Hill (Williams) and the late Chester Williams Jr., was born April 3, 1964 in Green Bay.
 Tina dedicated every aspect of her life to serving others. She spent 19 years working for Oneida Casino and an additional nine years with Mobil. She was an advocate for victims of abuse and maltreatment. Tina was loved by all that knew her.… She was a die-hard Green Bay Packers fan. Thanks to her close friends and family, Tina was able to attend her first Packers game, her first Diana Ross concert, and the Green Bay fireworks this year before passing. "Nana" enjoyed seeing her two grandchildren, Alayna and Leilani grow and play.
 Survivors include her daughters Michelle Bos, Renee Bos; granddaughters Alayna and Leilani Bos; her former husband Joseph Bos; her siblings Pam Williams, Laura (Randy) Lane, Carla Carle, Corina Williams, Jody (Sara) Williams; numerous aunts, uncles, nephews, and cousins. Tina will reunite with her father Chester Jr., brother Jamie, sister Paula, her triplet siblings Susan and Christopher, and brother-in-law Rodney.
 Family and friends may call on Friday, July 28, 2017 from 11:00 am to 1:00 pm at RYAN FUNERAL HOME & CREMATORY, 305 N. Tenth St, De Pere. The Oneida Hymn Singers will sing at 12:30 pm. Funeral services will be held at 1:00 pm at the funeral home with Deacon Debbie Heckel officiating. In Lieu of flowers, memorial contributions can be sent to House of Hope, 1660 Christiana St, Green Bay, WI 54303 or Golden House, 1120 University Ave, Green Bay, WI 54302. Please visit www.ryahfh.com  to send online condolences.
 The family extends a special thank you to Green Bay Oncology for their compassion and care.