Food & Agriculture
About the Food & Agriculture Area
Oneida Community Integrated Food Systems
The Oneida Community Integrated Food Systems (OCIFS) encourages a local community food system includes traditional food products, supports the local economy, promote  and encourage long term solutions to sustainable farming and local foods by providing education, outreach and a local market. 
Annual Youth Day on the Farm – introducing 6th graders to various agricultural operations.
Food Film Series – community education about the correlation in food, nutrition & health.
Farm to School – utilize the Oneida 4-H club as a Food Buyers group for Oneida schools.
Farm to School Evaluations – part of a 2 year project evaluating effectiveness.
Growing Gardeners Workshops – Community spring gardening workshops.
Oneida Farmers Market –  Vendor and demonstrations activities each week.
Youth Entrepreneur project – Youth harvest, process & market of nutritional products.
OCIFS Activity Book – Learning tool for area elementary schools (food, health & culture)
For more information contact Bill Vervoort at [email protected] or (920)869-4595
Oneida Nation Farm Beef & Buffalo
Oneida Beef Operation
Steroid, hormone and antibiotic free
State inspected processed beef sales sold by the hanging weight (processed with bone and trim)

quarter, half or whole animal
To place your beef order, just call the Farm @ (920) 833-7952, please do not respond via e-mail. Located three miles south on County C, Seymour WI 54165. 
Oneida Buffalo Operation
Grass fed, also supplemented with hay and grain feed
Locally raised
State inspected processed cuts buffalo available
To place your processed buffalo individual cuts call the Farm @ (920) 833-7952, please do not respond via e-mail. Located three miles south on County C, Seymour WI 54165. 
Find the buffalo at the Oneida Nation Buffalo Overlook! Google Map
Oneida Nation Orchard
In 1994, the Oneida Tribe purchased a 2,400 tree Apple Orchard as part of their continuing strategy of reacquiring lands within the original boundaries of the reservation. The Apple Orchard has 30 acres of original orchard and an additional 10 acres of new orchard, which now totals approximately 4,000 trees. The majority of the apples are McIntosh, Cortlands, and Honey Golds with twenty other varieties also available. There is also a wide variety of fresh produce products such as: strawberries, raspberries, blackberries, sweetcorn, squash and pumpkins. Due to weather, the variety of fresh produce will vary.
For updates and more information visit our Facebook page!
Click here for a map of the orchard
The Apple Orchard offers pick your own apples or vegetables.
Please call (920) 869 2468 or e-mail for varieties and picking hours.
Part of the Orchards goal is to generate interest in the area of agriculture as well as encourage our children to understand at a young age, the importance of growing healthy food, and finding natural ways to eliminate pests. The Apple Orchard hosts field trips for area schools. It has been quite successful in generating the children's interest in agriculture. It has also taught them that there are many techniques such as the Inegrated Pest Management (IPM) where we only treat the crop when necessary and we are able to produce a quality product in a safe sustainable way. Other ways to eliminate pests are trapping insects, releasing bugs to control other bugs.
Oneida Farmer's Market
If you are a VENDOR and would like to attend the Oneida Farmers Market please contact: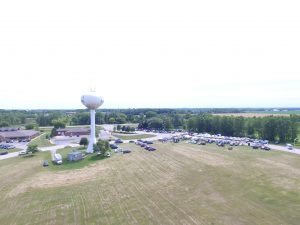 Bill Vervoort at (920) 869-4595
More information about the Oneida Farmers Market can be found at https://www.facebook.com/Oneida-Farmers-Market-Wisconsin-157816204275054/
Tsyunhehkwa
Oneida Nation Cannery
Aquaponics