About Environmental Health & Safety
For the duration of the Nation's Public Health State of Emergency (https://oneida-nsn.gov/dl-file.php?file=2020/03/2020-03-12-Declaration-of-Public-Health-State-of-Emergency.pdf), the Environmental, Health, Safety, and Land Division is directing all resources toward mitigation efforts and response to the COVID-19 pandemic.  Our website and social media may not be updated regularly – please refer to the Nation's website, oneida-nsn.gov/covid-19, and the Nation's social media accounts for the most up-to-date information.
Oneida Environmental Health & Safety Area is the provider of services that preserve, restore and enhance our environment, and protect and educate it's people consistent with the culture, vision and priorities of the Oneida Nation. EHS has a mission to protect and improve natural and built environments to enhance quality of life for the Oneida Community. We do this through responsible, professional actions which reflect Oneida's culture, tradition and core values.
The work we do is designed to preserve and restore the environment and natural resources. It is designed to protect public health and safety. Our goal is to do work on the Oneida Nation that contributes to a healthy environment- a place where we want to raise our families, practice our cultural traditions, hunt, fish, harvest and enjoy leisure activities. Click to see Env Land & Land Full Org Chart January 2020Chart.
Eco Services Dept
Eco Services focuses on projects and education. We install Best Management projects on tribal farm land that keeps soil, fertilizer and pesticides on farm fields and out of waterways. Renewable Energy program encourages alternative energy sources that will save the tribe money and address climate change. Many of our projects change every year dependent on funding, community needs and interests. We provide environmental planning support for community projects such as trails, landscaping and stormwater.
Watershed and Wildlife Habitat Restoration
Provide technical & financial assistance to the Oneida Farm, Tsyunhehkwa,& other farmers who lease tribal agricultural land
Assist in the restoration of land back into natural areas, wetlands, forests and grasslands
Administer several conservation grants and programs
Community Environmental Projects
Provide assistance for sustainable practices; energy conservation, renewable energy, recreation, green buildings, community design, and demolition recycling
Encourage natural landscaping and stormwater management around tribal buildings
Community Outreach and Education
Provide outreach and education on tribal natural areas and natural resources
For more information contact Sylvia Cornelius, Director at (920) 869-4570
Environmental Quality Dept
Environmental Quality provides environmental services that restore, enhance, and protect the environment on the Oneida Reservation. We restore wetlands and streams, improve fish habitat, monitor water quality, and have certified staff for underground storage tank inspections. Under the Tribal Environmental Response Program, risk is managed with assessments of land before purchase.  
Our Mission is to protect, restore, and positively change the Oneida Reservation environment.  We serve the community through leadership in science, education, meaningful participation, and governance.
Environmental Compliance
Phase 1 Environmental Site Assessments (ESA's) and Land Contaminant Surveys
National Environmental Policy Act Reviews (NEPA)
Compliance Assistance Program
Groundwater monitoring for leaking underground storage tank sites
Investigate and response abatement of environmental pollution
Tribal Environmental Response Program and Clean Sweep  
Land Use Technical Unit reviews
Development of Oneida Nation Environmental Protection Law
Technical assistance on environmental policy issues & activities
Construction site general permit (CWA 402) and wetland permits (CWA 404)
Brownsfield identification, clean-up, and re-development
Research
Natural resource inventories
Comments on impacts to reservation natual resources
Collection and maintenance of environmental quality data
Environmental Education
 Public outreach and community involvement
Staff compliance training
Community and school education
For more information contact Jeff Mears, Environmental Area Manager at (920)869-4555
Health & Industrial Services Dept
Health & Industrial Services provides food safety classes for food service workers and inspections for food service licensing, pet vaccine and neuter/spay incentives, compliance with asbestos regulations and lead and mold inspections for offices and homes. We also provide occupational safety training, inspections, oversee the residential trash and recycling service and annual Clean Sweep community event.  
We will protect community and employee health through education and compliance. We will be empowered, and a family and culturally focused department.
Industrial Hygiene
~Indoor air quality
~Abestos
~Lead
~Chemical hazards
~Mold
Environmental Health
~Food safety classes
~Pet safety program
~Restaurants, parks, and pool inspection
~Farmer's Market
Occupational Safety
~Employee training
~Safety inspections
~Complaint investigations
~Program evaluation
 Pollution Prevention
~Recycling
~Monitor residential waste/recycle collection
~Illegal dumping investigation
~Household Clean Sweep
~Composting
~Reduce/Reuse/Recycle
~Disposal information
~Green Cleaning
For more information contact Jeff Mears, Environmental Area Manager at (920)869-4555
Natural Resources Dept
The mission of the Oneida Natural Resources Department (formerly Conservation Dept) is to conserve, enhance, and protect our Nation's natural Resources, and to enforce the established hunting and fishing laws.   We provide community members with enjoyable, educational and culturally significant recreational areas and opportunities, while preserving the sovereign right of the Oneida Nation, to manage the natural resources within the exterior boundaries of the Oneida reservation. Projects include tree planting, establishing wildlife habitat, managing healthy forests, urban forests and community green spaces.
EHSD Staff
Staff Directories for Environmental, Health, Safety & Land Division:  EHS LB 2020 AW LAND MANAGEMENT PUBLIC 2020 STAFF PHONE LISTING
Organizational Chart for Environmental, Health, Safety & Land Division: Env Land & Land Full Org Chart January 2020
EHS staff are trained professionals. Our educational backgrounds include; administration and business management, biology, chemistry, environmental policy and planning, environmental science, fisheries, forestry, geology, industrial hygiene, natural resource management, police science, public health, watershed management and wildlife biology.
Wildlife of the Oneida reservation
Wildlife
 Birds
The diversity of habitats from wetlands to upland forest provides breeding and refuge for nearly 200 bird species on the Reservation. In addition to the game species like pheasants, wild turkeys, and ruffed grouse, large numbers of nongame species live here year-round while some migrate though.
Guides to Local Birds
---
Oneida's Common Backyard Birds 
Bird Surveys
---
Bird Observations for the Oneida Reservation 2006-2008.
Oneida Wetland Birds for birds specific to wetland habitats.
Forest Birds of Oneida for birds found in Oneida forest habitiat.
Grassland Birds of Oneida for birds found in Oneida's grassland habitat.
Habitats
---
The diversity of habitats from wetlands to upland forest provides breeding and refuge for nearly 200 bird species on the Reservation. In addition to the game species like pheasants, wild turkeys, and ruffedgrouse, large numbers of nongame species live here year round while some make use of the area in migration and others make the Reservation their winter home. Many of the bird species making use of Reservation habitats for breeding are becoming rare elsewhere. These include wetland birds such as great egrets, pied-billed grebes, black terns, and least bitterns; grassland birds such as bobolinks, eastern meadowlarks, vesper sparrows, field sparrows, and sedge wrens; and forest birds like the eastern wood peewee, gray catbird, mourning warbler, American redstart, Baltimore oriole, and scarlet tanager.
Bugs & Insects
Wonder about the biological health of a Reservation stream, lake or wetland?  
The Oneida Nation Water Resources Program, in addition to monitoring water quality and fish communities, also monitors the aquatic invertebrates, or "bugs", annually at several sites on the Reservation. We compile the information and use to see where we are at in restoring these waters. 
Have a "bug" you need identified? Although we do not monitor for terrestrial bugs, or bugs that live on land, we can usually tell you what they are if you bring them in.  Here is a guide to help you identify what type of bug you may see, Oneida Bugs.
Fish, Reptile & Amphibians
This link will inform you about the fish, reptiles, and amphibians which make their homes, in a variety of habitats, within the reservation.
Fish
Oneida waters have a great variety of fish.  Efforts continue to increase the numbers and varieties for the community to harvest. 
To see which fish can be found here, click  Fish of Oneida
Amphibians
The Oneida Reservation's large blocks of diverse wetlands surrounded by natural uplands provide habitats for at least half a dozen amphibian species.  Some species
require dry uplands for most of the year (wood frog, tree
frog), wintering on the ground's surface and breeding in
unpolluted ponds lacking predatory fish.Some species
(leopard frog, spring peeper, green frog), spend their
winters in the mud associated with wetland ponds or
streams. Long term maintenance of unpolluted wetland
ponds and surrounding upland habitats will be critical to
ensure that amphibian diversity will continue for future
generations to enjoy.Oneida's Amphibians
Reptiles
Large numbers of reptile species make their homes in a variety of wetland habitats. Many reptile species are declining throughout their range due to habitat loss, pollution, conflicts with human development and chemical use. At least two turtle species that breed on  the Reservation are on Wisconsin's threatened list as are several of the snake species that live here. Reptiles are sometimes thought of as 'creepy', but all species contribute to the matrix of life.
Each species lost leads us closer to a breakdown of our natural ecosystems.  Protecting all these species is critical for a healthy system. Oneida's Reptiles
Mammals
The Oneida Reservation is the year-round home for dozens of mammal species. From star-nosed moles to ground squirrels, voles to otters, raccoons to tree squirrels.
Guides to Local Mammals
---
Live Sustain Grow (IRMP) - 2011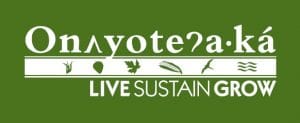 The Live Sustain Grow Plan (commonly known as an Integrated Resource Management Plan) was created to provide direction and fulfill the needs for resource management planning for Oneida's Seven Generations. This plan adds greater detail to the Natural Resources and Environmental Protection sections of the Oneida Comprehensive Plan, accepted by the Oneida Business Committee 2008. The Live Sustain Grow Plan was developed to address the following:

In October 2007, the General Manager instructed Division Directors to use the plan as a tool for addressing gaps in the land use plan, zoning ordinance, sustainable forestry management plan, shoreland ordinance, and farm policy.
In 2006, a General Tribal Council petition requested that the rural character of the Reservation landscape be protected, including curbing development in rural areas to protect hunting and fishing resources.
Support the Balanced Scorecard goal that all tribal actions are coordinated towards the betterment of the Oneida Nation.
Support BIA Government Results Performance Act (GRPA) goals for natural resource management and fulfilling Indian fiduciary trust responsibilities.

Vision Statement of the Live Sustain Grow Plan:

Provide direction and fulfill future needs for natural resource planning on the Oneida Reservation

In order to meet this vision, the Live Sustain Grow Plan:
Establishes a framework for land use and protection programs.
Preserves, protects, and wisely manages the resources of the Reservation.
Identifies needs for improvement in resource management policies and procedures.
Solicits community input on resource management decisions.
Provides for cultural needs of current and future tribal members.

Live Sustain Grow Plan