Calendar
25
Tue
All-day
◤
◢
12:00 am
Community Lacrosse Exhibit

@ Oneida Nation Museum
Community Lacrosse Exhibit
@ Oneida Nation Museum
Jul 25 @ 12:00 am – Jul 26 @ 12:00 am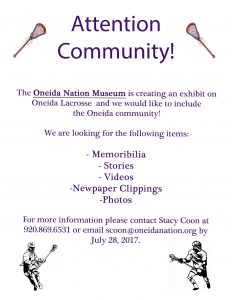 Calling all Oneida Community Members! The museum is in the beginning processes of creating a Lacrosse Exhibit. We need your help! We...
ONCOA meeting
Jul 25 @ 1:00 pm – 2:00 pm
Unless otherwise noted, the Oneida Nation Commission on Aging meets every 2nd and 4th Tuesday of each month in the Elder Service...