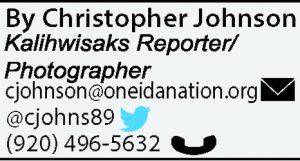 With Senate Bill 488 and Assembly Bill 576 set to cross the Wisconsin State Legislature's floor, it appears the Oneida Nation's tribal identification cards will soon be recognized as official forms of ID for all state purposes. The official recognition comes about as a result of the years of hard work the State Tribal Relations Committee has put in to getting the legislation enacted.
"What the Tribal ID bill does is create a parody for our tribal IDs to be considered an official government form of identification," Oneida Nation Vice-Chairman Brandon Stevens said. "So if a tribal member were to purchase anything that requires an ID, or needs to pick up prescriptions, it would be much easier to do so. For example we have tribal elders in Milwaukee who don't have their licenses anymore who do have tribal IDs but have been turned away from pharmacies because they weren't an accepted form of identification."
The newly created tribal identification cards will contain security measures that are present in other forms of state and federal identification to aid in the prevention of illegal duplication. "We're going to be using the same security features that the state uses with their IDs," Stevens said. "We have the hologram, watermark, and the raised indenture for the tribal seal."
Further aiding in the prevention of duplication, in addition to asserting tribal sovereignty, will be the unique qualities of Oneida's identification cards as compared to other nation's tribal IDs. "Just as each state has their own licenses and IDs each tribe has the right to create their own unique identification cards," Stevens said. "Tribes are considered sovereign and unique from each other so they shouldn't all be the same. They should be whatever we want them to be as long as certain state requirements are met."
The new bill, once signed into law, will also permit the tribal identification cards to be used for travel purposes. "Our cards are going to be able to be used as passports for international travel as well," Stevens said. "We explained to the state legislature that federal law does recognize tribal IDs as a form of identification for travelling through TSA checkpoints and border crossings. We just need the state of Wisconsin to formally recognize that this is an official form of identification."
6 Responses to Tribal identification cards to be recognized
Barbara Pigeon says: January 18, 2018 at 12:47 pm

Will it be an acceptable form of identification in order to vote? We have so many impediments to voting in Wisconsin.
Dawn Walschinski says: January 18, 2018 at 3:47 pm

Yes, you can currently use a tribal ID to vote in state elections
Tianna LeMieux says: January 19, 2018 at 1:11 pm

Would it be accepted in other states? I'm an enrolled member, but I live in minnesota. Will it be accepted in all 50 states??
Dawn Walschinski says: January 19, 2018 at 1:34 pm

According to their website, yes, you can: http://www.house.leg.state.mn.us/hrd/pubs/ss/ssvtrelig.pdf
Jan Skenandore says: January 19, 2018 at 6:05 pm

So we can travel to Mexico without passport? Only tribal ID?
Dawn Walschinski says: January 22, 2018 at 9:40 am

No, just within the US